Ja Morant Makes Bold Statement About How He Would Have Performed in 2021 March Madness Tournament
Published 03/22/2021, 2:20 AM EDT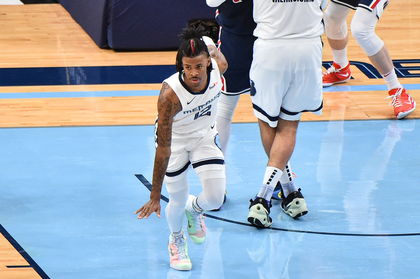 ---
---
The 2021 March Madness tournament has seen a lot of upsets already, and a lot of top teams have fallen victim to these upsets. After looking at these results, Memphis Grizzlies star Ja Morant made a bold statement.
ADVERTISEMENT
Article continues below this ad
The 2019 #2 overall pick believes that he would have thrived had he been playing in this edition. He said that he would have reached the Final Four if he was playing against these college teams.
definitely would've been in the final four if i was playing against these college teams 😂🤣‼️

— Ja Morant (@JaMorant) March 22, 2021
ADVERTISEMENT
Article continues below this ad
Morant played for the Murray State Racers during his NCAA tenure. In his freshman season, he averaged 12.7 points and 6.3 assists per game. He had mediocre shooting splits, shooting 45% from the field and 30% from three. Determined he could do better, Morant returned for his sophomore season, and he stayed true to his word.
Morant set the NCAA on fire, averaging a superb 24.5 points and 10 assists during his sophomore season. He also shot the ball well, going 49% from the field and 36% from three. He led the Racers to the OVC regular-season title and won the Player of the Year award as well.
Could Ja Morant really achieve a Final Four finish in the 2021 March Madness?
Many players have a tendency to look at the current-day games and believe they could have done better. A lot of NBA legends often talk about how they would average ridiculous numbers if they were playing in today's NBA. Morant's tweet feels very similar to those statements.
If Morant is saying that he could have achieved a Final Four finish with his current ability, then it is unfair to make such a statement. He is a top point guard in the NBA already, and comparing that to mere college-level players is unreasonable.
ADVERTISEMENT
Article continues below this ad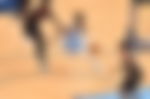 However, if he means he could have achieved the same when he was in the NCAA, would it actually have been possible? In his sophomore season in college, Morant and the Racers crashed out in the second round against the Florida State Seminoles. The Seminoles weren't a great team, and the Racers still had an embarrassing 90-62 loss to them. In the game, Morant had 28 points, but went 8-21 from the field and hurt his team's chances.
ADVERTISEMENT
Article continues below this ad
While comparing teams across years can never be accurate, these numbers provide a good estimate at the very least, and they clearly show that Morant's statement was hyperbole at best.