Luka Garza Reveals 'Nerve-Wracking' Moment When He Was About to Break Iowa Hawkeyes' Scoring Record
Published 03/15/2021, 2:00 PM EDT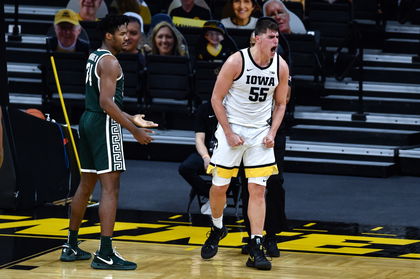 ---
---
The 2020-21 season has been a record-breaking season for Iowa Hawkeyes star Luka Garza. The senior forward has been dominant in almost every game and has etched his name on multiple records.
ADVERTISEMENT
Article continues below this ad
His biggest one would be becoming the all-time leading scorer of the Hawkeyes. He overtook Roy Marble, a Hawkeyes legend during the late 80s, to become number one. But it wasn't easy at all, and it only got harder as he got closer. During a recent interview, Garza revealed how he was extremely nervous when he was just a couple of points away from the record.
He said, "I knew going into the Penn State game I was 14 points away. But I really tried to block that out of my mind. The only time it really crept into my mind was when I got fouled. I knew if I make both free throws, I was gonna break the record. So it was obviously nerve-wracking at that moment… I showed I was a little nervous with my second free throw."
ADVERTISEMENT
Article continues below this ad
Teammate recalls Luka Garza's nervousness at the charity stripe
After sinking the first one, Garza air-balled the second, showing his nerves. Teammate Connor McCaffery shared how Garza came to him and told him about his nervousness. McCaffery said, "He came to me after and said, 'Bro I was literally shaking. I was so nervous. It's a miracle the first free throw went in.'"
After air balling the second one, Garza had to wait around seven minutes more to finally get the record. Jordan Bohannon found him open in the paint, and Garza finished it with no difficulty, as he celebrated his achievement.
With multiple individual records broken, can Garza lead the Iowa Hawkeyes to glory in the NCAA tournament?
ADVERTISEMENT
Article continues below this ad
One of the main reasons why Garza withdrew from the NBA Draft was because of his intention to bring home the NCAA tournament title. The Hawkeyes have never won the title, and the closest they have come was the runner-up title in 1956.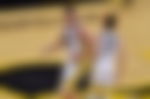 They enter the tournament ranked as the #2 team in the West, and if it goes according to plan, they will face the Gonzaga Bulldogs in the Regional Final. They have already lost to the Bulldogs earlier in the season, so they will be keen to get revenge if they get the chance. Garza's form will be crucial in this run for them, and he has the ability to take them all the way.
ADVERTISEMENT
Article continues below this ad