Baylor Bears Become First Non-Kansas Team To Win Big 12 Championship In 17 Years
Published 03/03/2021, 12:00 PM EST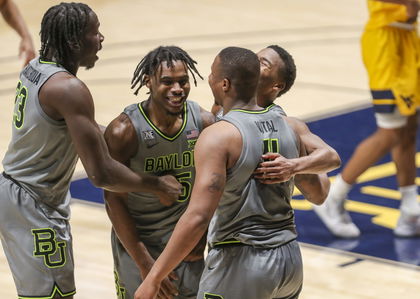 ---
---
Baylor Bears clinched the Big 12 Championship with a stellar OT win over the #6 West Virginia Mountaineers. This Baylor team was reeling from a loss at the hands of the Kansas Jayhawks. While their title win was a matter of time, their stumble against rivals like the Jayhawks was a cause of concern.
ADVERTISEMENT
Article continues below this ad
The Bears were downgraded to #3 after a full season of being at #2 after the loss in the AP Poll. However, they bounced back in style with a major win over the Mountaineers. This helped the Bears win the Big 12 Championship. This was the first conference title for the team since 1950 and they broke a 17-year long streak of Kansas-based teams winning the title.
The Baylor Bears are the Big 12 regular-season champs for the first time in 71 years. … and that was one heck of a win to clinch the title.

— Jeff Goodman (@GoodmanHoops) March 3, 2021
ADVERTISEMENT
Article continues below this ad
The last non-Kansas team to win the Big 12 out-right were the Oklahoma State Cowboys in 2004. While teams like Texas Tech and Texas have won titles, they have always shared it with either Kansas State or the Jayhawks. This is the first time since 2004 that a non-Kansas team has won the regular-season crown outright.
Baylor Bears: Is an NCAA title on the cards?
ADVERTISEMENT
Article continues below this ad
The Baylor Bears will definitely be a top-seed heading into this year's March Madness. While they still have the Big 12 Tournament ahead of them, the main glory comes with the NCAA crown. While they are decidedly weaker than the monster Gonzaga Bulldogs, they are easily the second or third best team in the nation.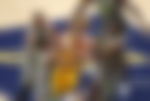 Whether a team like the Michigan Wolverines can be considered better than the Bears is a toss-up. However, Baylor have proved through the season that they are one of the steadiest teams in the NCAA this season. A three-week-long battle with COVID caused them to slip up against Kansas. But they proved their strength by getting this massive win in OT.
ADVERTISEMENT
Article continues below this ad
The Mountaineers are also one of the best teams in the nation and stretched the Bears in a game reminiscent of the tournament. Both teams fought hard. However, the Bears imposed themselves late in the game and managed to win the Conference. This is a landmark win for Scott Drew and the Bears. The rebuild of the program is complete and a title may await if they carry this form on.