Can USC Trojans' Center Evan Mobley Be the Next Generational Star for the Houston Rockets?
Published 04/18/2021, 10:28 AM EDT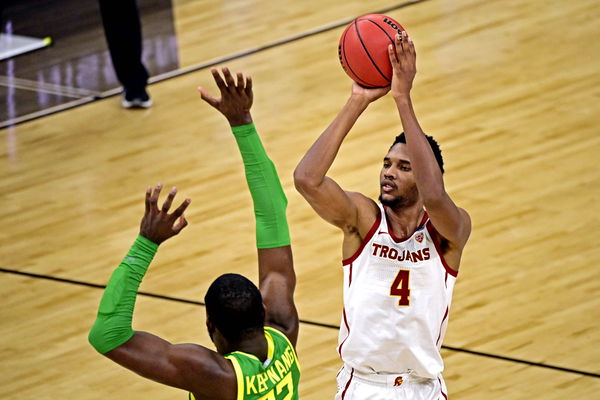 ---
---
Evan Mobley is one of the best prospects in the 2021 NBA Draft. In most years, he could have been the undisputed number one overall pick. However, he has to contend with the generational talent of Cade Cunningham in a league dominated by guards. That means that teams that miss out on the top pick have another top-quality star to look out for.
ADVERTISEMENT
Article continues below this ad
The Houston Rockets currently have the worst record in the NBA and are projected to have the best odds for the #1 overall pick. However, we have seen teams with the worst record miss out on the top pick in recent years. But Houston is guaranteed a top-five pick, and the chances of them getting the second pick are pretty high.
ADVERTISEMENT
Article continues below this ad
If Houston can't go with Cade Cunningham, should Evan Mobley be their target ahead of players like Jalen Suggs or Jalen Green? They already have a solid big-man in Christian Wood, who has been developing well this year and is in the race for Most Improved Player of the Year. But does Mobley bring something to the table that the Rockets can't pass up on?
Evan Mobley: Is he the man to bring success back to the Rockets?
Evan Mobley is one of the rare NBA Draft prospects that come into the league as someone who can already be a solid contributor on a team. But along with that, Mobley brings his high potential with him. With how modern centers like Joel Embiid and Nikola Jokic have been dominating, it may be wise to start appreciating high potential big-men again.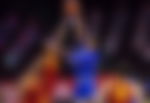 The Rockets have lost a massive touch on defense in the last few years. However, Mobley is a solid defender that can already block shots and even defend the perimeter. His rebounding is elite, and he has a 7'5″ wingspan that makes him a force to be reckoned with. Offensively, he has a fantastic post-game.
Mobley can score with his back to the basket, at the rim, and even from mid-range. He has been working on his shooting touch and could genuinely become a competent perimeter shooter at the NBA level. Considering the physical gifts he already brings to the table, having even an average to above-average three-point shot would be fantastic for him.
How does he fit in with the Rockets?
Mobley's efficiency and effectiveness are hard to argue. But his strength and size will be a worry. Unless Mobley has a Giannis Antetokounmpo-like transition, there is a chance he has a hard time adapting to the bruising basketball NBA centers play. While that may take a season to get used to, Mobley can develop into a top-tier center within a few years.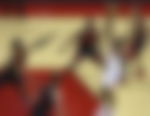 The Rockets have a lot of flexibility around him, as they are just in their first year of this rebuild. With the experienced John Wall as his point guard, Mobley is bound to have a fun time getting to the rim. Just ask Marcin Gortat the bliss of being a center with Wall as a point guard. Kevin Porter Jr. can still grow without worrying about losing touches to Mobley.
The biggest question is with Christian Wood fitting and developing with him. The answer to that may depend on Wood's versatility. Considering his playstyle and how he is a little smaller than traditional centers, Wood could make a transition to playing the four next to Mobley in the middle. Wood and Mobley are pretty complementary if Wood can share post-touches with him and further develop his shot.
Is Evan Mobley worth the risk?
ADVERTISEMENT
Article continues below this ad
Considering the tools Mobley has, it would be silly to pass up on him. However, the history with top draft picks who were centers could be worrying. While Mobley could develop into a player with an Anthony Davis-like skill-set, the questions around his durability and strength will be heavy in most scouts' minds.
But the Rockets are in the first year of their rebuild. They have a lot to build back up after the James Harden trade didn't bring back any tangible long-term assets. Mobley could be the kind of player they take a risk on with their top pick if he is available to them. There are more attractive player options that fit the modern game, but Mobley can be a game-changer.
ADVERTISEMENT
Article continues below this ad
Everyone knows that Cade Cunningham is legit. However, it is time we start expanding that conversation. Evan Mobley can be a massive threat in the NBA if he develops correctly. If the Rockets are willing to take that risk, they may find themselves with a franchise cornerstone to build around.