Collin Sexton Reveals How He Almost Cost Richard Pitino His Job After Iconic 3v5 NCAA Basketball Game Against Minnesota
Published 04/01/2021, 3:00 PM EDT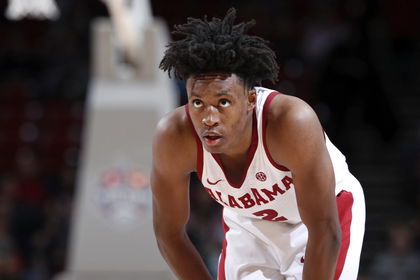 ---
---
Over the years, NCAA basketball has provided a lot of crazy games. But none of them come close to the Alabama Crimson Tide's game against the Minnesota Gophers from 2017. It was nothing like anyone had seen before.
ADVERTISEMENT
Article continues below this ad
Collin Sexton, the star from that Crimson Tide team, recently appeared on the JJ Redick podcast. With college basketball currently trending, the first question was about the 2017 Crimson Tide vs Gophers game. Sexton and co played 3v5 in the second half, and came close to actually winning it but just fell short. However, had they won the game, Sexton believes there would have been consequences.
He said, "It's hard to make wide-open jump shots when everyone's looking at you. So they couldn't hit any shots and their coach was so frustrated. I got to see him at an EYBL event and he was giving me a hard time. He was like you almost cost me a job. That was a moment I'm going to remember."
ADVERTISEMENT
Article continues below this ad
Richard Pitino was the Gophers coach back then. Son of legendary coach Rick Pitino, Richard won Big Ten Coach of the Year that season. If they had lost the game, not only would he have lost the award but also his job.
Looking back at that wild NCAA basketball game between Alabama and Minnesota from 2017
During the podcast, Sexton spoke about how things were getting chirpy between the players right from warmups. And that escalated to an on-court fight between the teams in the second half of the game.
ADVERTISEMENT
Article continues below this ad
The Crimson Tide bench stepped onto the court and got an automatic ejection. So they didn't have any substitutions for the rest of the game. To make matters worse, Dazon Ingram had to leave after getting fouled out, followed by John Petty who injured his ankle and wasn't able to continue. So the Crimson Tide were officially playing three players against five players.
Despite the massive disadvantage, Alabama didn't lose heart. Especially Sexton. They were already down by 11 points, but he was determined to still win the game. He finished with 40 points, while shooting 12-22 from the field and brought it within three points.
ADVERTISEMENT
Article continues below this ad
Sexton missed a crucial midrange that would have got the deficit to just one, but one could see the exhaustion. Despite the loss, it will go down as one of the most exciting games in NCAA basketball, and if it was a win for Alabama, it would arguably have been the greatest in college history.