'Didn't Feel I Was Known Enough': Cade Cunningham Opens Up to Dwyane Wade About His Winning Obsession
Published 03/19/2021, 1:00 PM EDT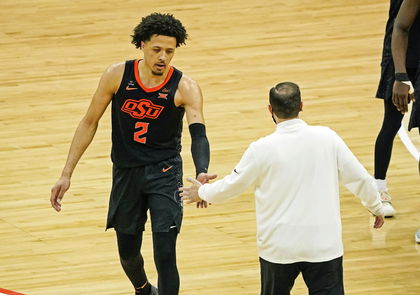 ---
---
The 2021 NCAA tournament is here and the excitement levels can hardly be contained. This where the best college teams in the country fight for the national championship, and this time, the Oklahoma State Cowboys are deemed as one of the favorites due to the heroics of freshman Cade Cunningham. 
ADVERTISEMENT
Article continues below this ad
Cade Cunningham joined Oklahoma State upon graduating from Montverde Academy last year and has been nothing short of inspiring. The prolific guard has earned massive acclaim in such a short span and is touted to go as the #1 overall pick in the 2021 NBA Draft. 
But before that, Cunningham and the Cowboys have a shot at winning the NCAA Tournament after emerging as the #4 seed from the Midwest region. Cunningham recently connected with NBA legend Dwyane Wade, where he opened up on why he always plays with a chip on his shoulder.
ADVERTISEMENT
Article continues below this ad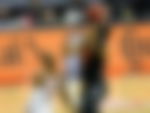 "I think it's more like an opportunity to kind of to prove that even though they projected me as that, I still didn't feel I was known enough," Cunningham told Wade about handling the pressure of being the top-ranked draft prospect. 
"I still kind of felt people kind of sleep on me at the same time so having that name and I was excited for it and I was ready to be able to be on the college basketball stage so everybody could see," he added. 
Cade Cunningham wants to lead the Oklahoma State Cowboys to NCAA glory
Cade Cunningham is obsessed with winning, and that's a quality that every great athlete would possess. He is only a freshman at Oklahoma State but has been their leader on the court. The 19-year-old combo guard takes pride in the way he approaches the game and wants to win at any cost. 
"It's something that I've grown up dreaming about. I mean, I always dreamed we were going to be at one seed just because I didn't want to lose any games. But, we got the fourth seed now and I feel like I have something to prove. I kind of like having that chip on our shoulders. It definitely made us hungry, and that's when we strive," Cunningham told Wade about winning the NCAA Championship. 
"Winning this championship would mean everything honestly. Championships are immortal. You can never take a championship away from somebody. Forever you'll be able to see that banner sitting up there and be able to say that you were a champion," he further added. 
ADVERTISEMENT
Article continues below this ad
Cade Cunningham just wants it as bad as every other top-ranked player in the nation. Be it Luka Garza or Jared Butler, all these players enter March Madness with one goal in mind. 
As for the Oklahoma State Cowboys, they play the#13 seed Liberty Flames in the first round. The Cowboys have never reached the regional semi-final game since 2005. Can Cade Cunningham overturn their woes? 
ADVERTISEMENT
Article continues below this ad