'Even More Fun': Richard Jefferson Reminisces March Madness Memories and 2001 Championship Battle with Duke
Published 03/21/2021, 2:00 PM EDT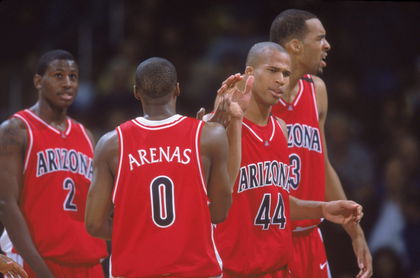 ---
---
It's that time of the year again! The 2021 March Madness has already given fans plenty of results to be excited about. 2016 NBA champion Richard Jefferson is someone who knows what it takes to excel in the prestigious college tournament as he's been in that stage before. 
ADVERTISEMENT
Article continues below this ad
Jefferson played with the Arizona Wildcats from 1998-2001 and established a legacy for himself in college basketball. The former Wildcat recently connected with Fubo Sports, where he extensively detailed his experience of playing in the NCAA Tournament.
"It's so surreal and part of the reason why I love it is because everybody's experience is very very different," Jefferson mentioned about March Madness. 
ADVERTISEMENT
Article continues below this ad
Richard Jefferson committed to the University of Arizona because he wanted to win the National Championship with the Wildcats. Though the end goal was never fulfilled, Jefferson and Arizona reached the final in 2001 and lost a thrilling battle against the Duke Blue Devils. 
Richard Jefferson recounted the memories of March Madness
Jefferson became a Wildcat the year after they won their first National Championship. While they were unable to defend the title, the Wildcats maintained their stand as one of the best teams in the nation. Heading into the millennium year, their primary rivals were Duke, and Jefferson briefed about how all the tension unfolded between them. 
"There are so many layers that go through it. To start the year, us and Duke, so we were preseason number one in the country, they were pre-season number two. They had five pre-season All-Americans, we had five preseason All-Americans. So from the beginning of the season we were looking at each other we never played each other but we were always looking at each other," Jefferson mentioned. 
A personal tragedy hindered the Wildcats' momentum 
Both teams had a starting lineup capable of claiming championship honors. While Jefferson had guys like Gilbert Arenas and Luke Walton as his teammates for the 2000-01 season, Duke had players like Shane Battier, Jay Williams, and Carlos Boozer. 
Jefferson also mentioned how the team lost their morale after their head coach Lute Olson's wife passed away during the season. However, they still found their grip during March Madness and made a deep title run. 
"Not to take any credit away from Duke at all, because they deserved to be the National Champion even though the referee's never caught any fouls on Jason Williams," Jefferson mentioned. 
ADVERTISEMENT
Article continues below this ad
"My thing would have been more of like, I really wish if we would have been at a hundred percent. I think that that game would have been even more fun," he added. 
A 10-point margin caused Jefferson and the Arizona Wildcats to lose the 2001 National Championship game. The Duke Blue Devils emerged victorious with an 82-72 scoreline and proved why they were the #1 ranked team coming into the tournament. 
ADVERTISEMENT
Article continues below this ad
Read Also: How Good Was Anthony Davis in College and Why Was He the First Pick in The 2012 NBA Draft?