Former Kentucky Wildcats Player Explains How Rick Pitino Helped Him On Offense And Be Able to Guard Shaquille O'Neal
Published 04/15/2021, 9:34 PM EDT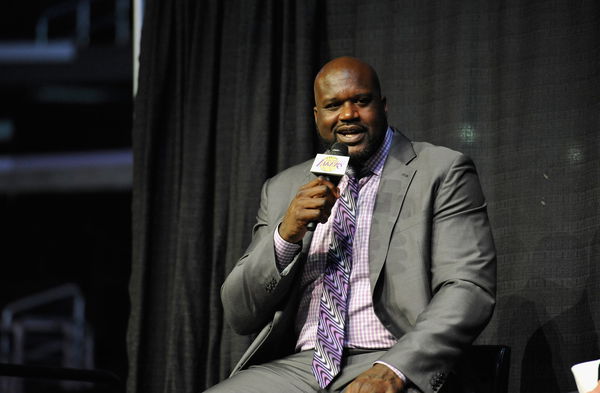 Hall of Famer Shaquille O'Neal was a monster on court. He is arguably the most dominant basketball player since Wilt Chamberlain. Right from his days at the LSU Tigers, Shaq was the toughest assignment for every opposing team.
ADVERTISEMENT
Article continues below this ad
Guarding a player who is 7'1 and 294 lbs would require the biggest defender. But former Kentucky Wildcats coach Rick Pitino had an audacious approach. During the early 1990s, he used former star Reggie Hanson on Shaq, despite being just 6'8.
After the Wildcats were on probation, Hanson was the tallest player left, so Pitino had to use him as the center. During a recent interview, he revealed how Pitino helped him to stand his ground against the Diesel.
ADVERTISEMENT
Article continues below this ad
He said, "The conversation I had with Coach P was, I don't want to be stuck in the center position. Coach P was like you gotta worry about getting in shape because you're ball-handling, shooting threes, you're gonna do whatever. He put me on Chris Jackson, didn't matter, Shaquille, didn't matter who I would guard."
Stop Shaquille O'Neal? Check. Develop an offensive game? Also check.
While Hanson was never able to shut down Shaq, he did enough for them to be able to get wins. He went 2-2 in his career against Shaq, which is still impressive.
However, along with this defensive prowess that Hanson developed, Pitino also helped him to improve his ball-handling, finishing, and shooting. "Offensively, coach P developed my game to where I posted up when I had the advantage, I went to the perimeter, drove, shot threes, handled the ball. So he developed my all-around game that allowed me to be a lot more flexible," Hanson said.
ADVERTISEMENT
Article continues below this ad
When he blossomed into a star in his final two seasons at Kentucky, Hanson averaged 15.4 points and 7.2 rebounds. He shot 50% from the field and an impressive 35% from three as well. Both of these impressive seasons helped him to become a two-time All-SEC player.
ADVERTISEMENT
Article continues below this ad
After leaving the NCAA, he didn't find success in the NBA and barely lasted a year. After an early retirement, he came back to Kentucky as an assistant coach for seven years where he worked with coach Tubby Smith. Although he wasn't able to win a national title with the Wildcats, he will still be remembered as one of their top players in the 1990s.