Former Michigan Wolverines Teammates Talk About Infamous Victory Over Duke Blue Devils
Published 01/24/2021, 12:58 PM EST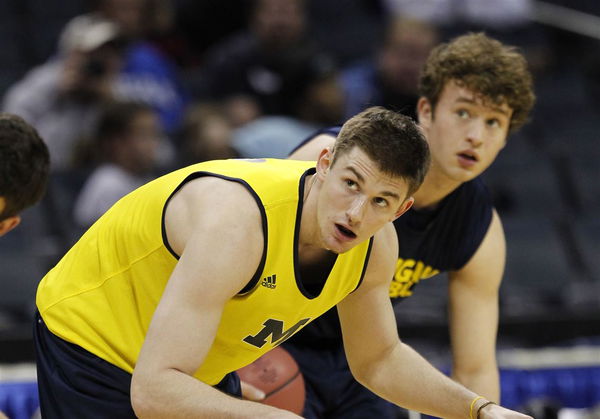 ---
---
The Michigan Wolverines are now thriving under head coach Juwan Howard and he's carrying forward the legacy of the legendary John Beilein. The latter served 12 years as the head coach of the Wolverines and two of the smartest players he ever recruited were Stu Douglass and Zack Novak. 
ADVERTISEMENT
Article continues below this ad
Douglass and Novak entered their freshman year at Michigan in 2008 and formed an unbreakable partnership on the court. Besides their brilliance on the basketball court, the duo also bonded over different things and forged a thick friendship that carries forward to this day. 
Novak and Douglass got together to discuss their days with the Michigan Wolverines
ADVERTISEMENT
Article continues below this ad
Douglass and Novak are two of the best players to have represented the Michigan Wolverines in the 2010s decade. They've created wonderful memories for themselves, and the duo recently got together on the 'Go Blue With Stu podcast.'
The pair enjoyed their conversation on the podcast and Douglass, who hosted the show, was chirping with laughter upon connecting with his old roommate at Michigan. Their careers began and ended at the same time with the Wolverines, and that's what made it even special.
During a moment in the podcast, Novak and Douglass began reminiscing their biggest wins in their time together as teammates, and a few interesting anecdotes popped up.
It contained a victory against Duke in their freshman year in which Novak went on a late charge to deny the Blue Devils victory. Furthermore, Novak also recollected a victory against Ohio State in their senior year which he considered as an "underdog win."
Bizarre questions that Novak and Douglass got asked in their senior year
Zack Novak and Stu Douglass entered college basketball as unrecognized talents, but they left a mark upon completing their senior year. The duo deservingly earned the limelight during their senior season with the Michigan Wolverines, but they didn't always receive the best of questions from the media!
"The questions we had; the favorite sideline reporter. I had said Tony Siragusa and I got a lot of flak for it because I didn't say, Erin Andrews," Douglass revealed. 
Novak then pulled out one of his funny interview stories which also involved Margot Robbie in it, and the pair were laughing it out by looking back at old memories. Zack Novak also cheekily deemed a younger Stu Douglass as "soft," but it was all for fun.
ADVERTISEMENT
Article continues below this ad
It was incredible to see old roommates catching up and having fun. Though their careers didn't quite shape into the NBA after college, Novak and Douglass would be proud of what they achieved with the Michigan Wolverines! 
ADVERTISEMENT
Article continues below this ad