Former NCAA Champion Explains How He Went From Supporting UNC Tar Heels to Resenting Them
Published 04/24/2021, 5:30 PM EDT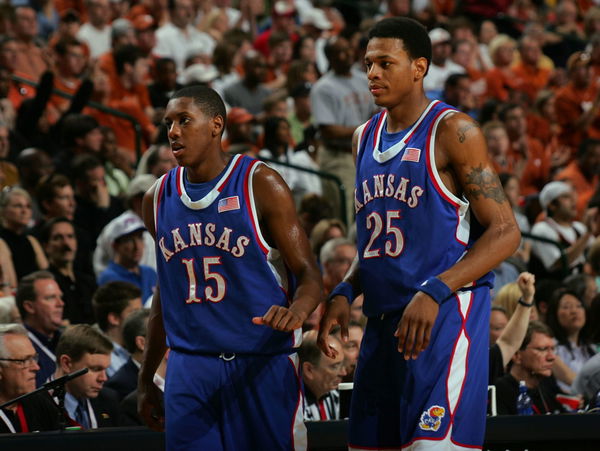 ---
---
The Kansas Jayhawks haven't won the national title since 2008. During that run, they beat the UNC Tar Heels and the Memphis Tigers to win the championship. While many of the players from that team found a lot of success in college, only one of them had a successful NBA career as well: Mario Chalmers.
ADVERTISEMENT
Article continues below this ad
The 6'2 point guard was the heartbeat of their offense and one of their most important players. But his dream wasn't to play for the Jayhawks. He grew up a Tar Heels fan since his family was from North Carolina and his idol was Michael Jordan, who played for them. So he always wanted to play for the Tar Heels. But it never happened.
During a recent interview, he explained how his dream school snubbed him and he resented them for it. Chalmers said, "I always wanted to go to North Carolina. We played a tournament in Vegas, and I had seen Roy Williams at that game. He tells me the only way I could come to North Carolina is if Raymond Felton goes pro."
ADVERTISEMENT
Article continues below this ad
"Two days later, they offered a player that had just played a scholarship, when they told they'll (sign) me. I'm like oh you lied to me. From that moment on, I was off Roy Williams; I was off North Carolina. Y'all the enemy now."
Mario Chalmers got a sweet revenge against the UNC Tar Heels
After being snubbed by them, Chalmers was determined to get one back against the Tar Heels. He had to wait till his junior year, and he got the perfect opportunity when the Jayhawks were facing the Tar Heels in the NCAA tournament Final Four.
ADVERTISEMENT
Article continues below this ad
UNC came in as the number one ranked team in the country. But this game was a complete mismatch. Right from tip off, the Jayhawks started on the offensive. They outscored them 44-27 in the first half, before winning the game 84-66. It was a statement win for them and also a huge moment for Chalmers, who finally got his revenge. He scored 11 points in the game and shot 5-10 from the field.
They faced the Memphis Tigers in the final, and Chalmers saved the Jayhawks in this game. With 10 seconds left to go, the Jayhawks were done by three. Chalmers made a clutch three-pointer to send the game to overtime where the Jayhawks won it.
ADVERTISEMENT
Article continues below this ad
Chalmers left college as a champion and continued his winning trend in the NBA, winning two rings with the Heat. He currently plays in the Greek League.