'Get Your Stats Up Son': Former Syracuse Player Shares Hilarious Stories About Coach Jim Boeheim
Published 04/27/2021, 7:00 PM EDT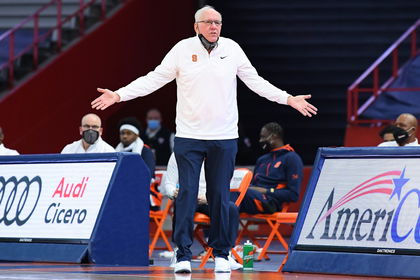 ---
---
The Syracuse Orange currently have the longest tenured head coach in Jim Boeheim. He is famous for his hilarious press conferences, but what most fans don't know is that he is funnier in the locker room.
ADVERTISEMENT
Article continues below this ad
During a recent interview, Orlando Magic point guard Michael Carter-Williams spoke about his time with Syracuse. He recollected a couple of funny stories involving coach Boeheim from his playing days. The first one he narrated was about how he silenced Dion Waiters.
"(Dion) didn't have his best game. He came in the locker room (and said), I need the ball more, I need to play more. Coach Boeheim grabbed his stats sheet and was like 1-4, three rebounds, one assist. 'Get your stats up, son.'"
ADVERTISEMENT
Article continues below this ad
Without saying a lot, coach Boeheim shut Waiters up and got the rest of the team cracking up.
When Syracuse Orange players laughed at Coach Jim Boeheim
While coach Boeheim could get his players in splits with his wisecracks often, there were also times when his players laughed at him and his actions. The next incident Williams mentioned was of coach Boeheim expressing his frustration about a loss.
Williams narrated, "Coach Boeheim was like, 'We got guys coming in not playing hard'… He'll say how he'll say guys and won't direct who he's talking to. Everybody in the locker room knew he was talking about Fab."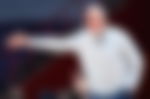 When Fab Melo understood coach was talking about him, he stood up and asked, "'Who are you talking with! Who are you talking with!' And then Boeheim backed up and started walking out of the door and was like somebody get this guy out of here."
Williams then ended his story by talking about how Coach Boeheim was just all talk at times. "Talk big shit but want no smoke," he said.
ADVERTISEMENT
Article continues below this ad
That was their 2011-12 team, who had a disappointing end to their season. They entered the NCAA tournament as a #1 seed after winning 31 games and losing just twice. Sadly, they fell to the Ohio State Buckeyes in the Elite Eight and they continued their drought for a March Madness title.
Since their only win in 2003, the Orange are yet to win another. They also haven't made it to the Final since then, coming short in the Final Four game twice. With retirement likely to come soon, coach Boeheim will be hoping that he can go out with another title in the bag.
ADVERTISEMENT
Article continues below this ad