'Get Your Stats Up Son'- How Jim Boeheim Disciplined Future NBA Champion on the Syracuse Orange
Published 04/30/2021, 7:30 PM EDT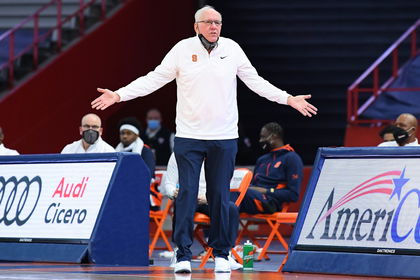 ---
---
The Syracuse Orange have long been under the coaching and guidance of coach Jim Boeheim. Boeheim led the team to a Cinderella run in March Madness when his son, Buddy, became an absolute star. However, Boeheim has seen many quality NBA players go through his system before they got to the NBA.
ADVERTISEMENT
Article continues below this ad
Two of those players include former Rookie of the Year Michael Carter-Williams and two-time NBA Champion Dion Waiters. Waiters was part of the 2016 Cleveland and the 2020 LA Championship squads. However, the attitude that Waiters got famous for in the NBA existed during his NCAA days as well. MCW told a story of coach Boeheim had to bring out the stat sheet to silence an unruly Dion.
ADVERTISEMENT
Article continues below this ad
"Everybody knows how Dion is. He didn't have his best game, and he came in the locker room like 'I need to get the ball more, I need to play more'. Coach Boeheim grabbed the stat sheet and was like 'one for four, three rebounds, and one assist'. He's like, get your stats up, son."
Syracuse Orange: How are they looking for the 2021-22 season?
ADVERTISEMENT
Article continues below this ad
The Syracuse Orange were one of the best programs in the NCAA at a time, winning a championship in 2003 with Carmelo Anthony as their star player. However, those days are gone and Syracuse has been inconsistent since. Much of this has to do with their underwhelming recruiting class and stagnant growth over the years.
However, the team has been looking special off-late. Buddy Boeheim led the team to a fantastic run in March Madness. While they were over-matched and weren't realistically going to win it all, it was a great surge of momentum for the program. They have a top-recruit in 5-star prospect Kamari Lands joining for this season. They are looking to recruit four-star prospects like Arthur Kaluma.
ADVERTISEMENT
Article continues below this ad
The Orange could have also gotten 5-star prospect Dior Johnson, but it looks unlikely Johnson will join them. Despite that, they have a nice team for next season and Coach Boeheim will be expected to lead them deep into March Madness 2022.