How Chicago Bulls Head Coach Billy Donovan Inspired the 2006 Florida Gators Before Their Final Four Game
Published 03/01/2021, 4:00 PM EST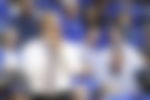 ---
---
It has been 15 years since the Florida Gators secured their maiden NCAA championship at the RCA Dome in Indianapolis, Indiana. It was a special one for every reason, and head coach Billy Donovan had finally fulfilled his promise. What's more impressive is that they went back-to-back by winning the National Championship in 2007 as well! 
ADVERTISEMENT
Article continues below this ad
The 2006 and 2007 Florida Gators were the first team to complete the double since Duke did it in '91 and '92. Hence, it was a record-breaking achievement and the team was filled with exciting talents who fulfilled their college basketball destiny. 
Some of the notable names who were present during both triumphs were Joakim Noah, Al Horford, Corey Brewer, Taurean Green, and Walter Hodge. The latter recently connected with Patric Young, a former Gator himself, on his podcast where the duo talked about the two magical seasons. 
ADVERTISEMENT
Article continues below this ad
Hodge revealed an untold story about Billy Donovan
The Florida Gators reached the Final Four of the 2006 NCAA Tournament, and so did UCLA, LSU, and George Mason. All the hype was around George Mason since they were making a Cinderella run that year.
Of course, there was massive attention on UCLA too, for being the most decorated school in NCAA history. So Billy Donovan was agitated that there was no real talk about the Florida Gators' chance, and he wanted his team to outclass George Mason in the Final Four game.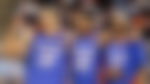 That's just not it. Donovan's fury had all of Florida players pumped, but he did something that lightened their mood at the same time! Here's Walter Hodge's version of the story about what went down during pre-game in the locker room:
"[Billy Donovan] brings Ric Flair to the locker room. Like he turned the lights we put the video and Ric Flair walks in the middle of the room. So like the stuff that he was doing to prepare us and get us ready, man for me like this guy as a motivational guy is the best, like he get us ready for everything," Hodge expressed. 
Joakim Noah was unpunctual when he was with the Florida Gators
Joakim Noah was a tremendous player for the Florida Gators. He took some time to settle in as a freshman, but the 6'11" big man was an essential part of the Gators' back-to-back success. However, there is also an unknown fact about Noah during his time at the University of Florida. 
"Me and Joe we understand each other, we come out the same," Hodge said of Noah. "But Joe, he used to be late for everything. Joe used to be late for everything so he used to get in trouble, like coach would bring him at six in the morning, and for him, he liked that you know like I'm doing extra work."
Noah averaged 13.1 points and 7.8 rebounds in his final two seasons with the Gators and shot an impressive 61.8% from the field. He then made a combined 10 blocks in the 2006 Final Four and the Championship game to win the defensive game for the Gators. 
ADVERTISEMENT
Article continues below this ad
"I always keep connection with these guys because you know when we were in school, we helped each other a lot," Walter Hodge said about his teammates. 
It was no luck that the Florida Gators won back-to-back NCAA Tournament titles. Not often do schools groom such a wonderful unit of athletes, and the most impressive part is that they won both the Championship games in convincing fashion! 
ADVERTISEMENT
Article continues below this ad