'I'm Human': E.J. Liddell Abused by Ohio State Buckeyes Fans After Shock NCAA Tournament Loss
Published 03/20/2021, 12:00 PM EDT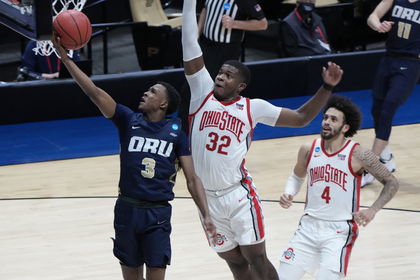 ---
---
The NCAA tournament is full of upsets. Millions across the world make brackets, but in the tournament's history, no one has ever come close to being perfect. A lot of brackets were ruined last night when the Ohio State Buckeyes lost to the Oral Roberts Golden Eagles.
ADVERTISEMENT
Article continues below this ad
Ranked #2 in the South region, the Buckeyes were expected to reach the Elite Eight. But they stumbled in their first game itself. Following the loss, sophomore guard E.J. Liddell shared some disappointing screenshots. On his Twitter, he posted abusive messages that he received due to the Buckeyes' loss.
ADVERTISEMENT
Article continues below this ad
Liddell missed a crucial free throw which could have potentially won the game for his team. The Golden Eagles then scored twice to take the game to overtime. If not for the miss, the Buckeyes would have advanced to the second round.
But despite the miss, Liddell was the best player on the court last night. He had 23 points and 14 rebounds while shooting a superb 10-15 from the field. No player deserves such abuse, and Liddell is the last player who should have been targeted.
Former NCAA stars offer support to Ohio State Buckeyes' E.J. Liddell
In the replies, former Ohio star Jared Sullinger advised him to ignore such people while saying he is proud of Liddell. He wrote, "Keep your head bro… Some ppl don't see you as a human more like entertainment.. keep being the young man that you are bro. Proud of you. Use these messages to fuel your fire…"
ADVERTISEMENT
Article continues below this ad
Sullinger played for the Buckeyes from 2010 to 2012. He was a star forward during his playing days, winning two consensus All-American nominations and also two All-Big Ten First Team appearances.
Former West Virginia Mountaineers star DaSean Butler also offered similar advice and appreciation in the replies. He wrote, "You're a great player and had a great season EJ! Don't even pay that bs any mind. Wish you nothing but the best!"
Liddell was likely to leave the Buckeyes and declare following this season. But this upset loss could affect his decision. Many players have reversed their decision to declare and have come back to help the team improve in the next season. Liddell might be keen on doing the same and helping the Buckeyes finish higher in the 2022 NCAA tournament.
ADVERTISEMENT
Article continues below this ad