'Luka Doncic of College Basketball': NBA Draft Expert Projects Incredible Ceiling for Cade Cunningham
Published 03/16/2021, 12:51 AM EDT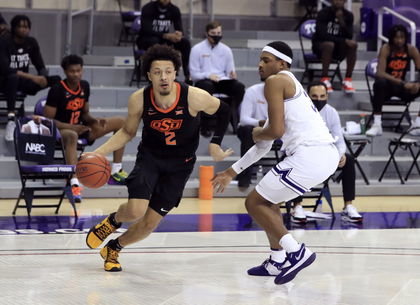 ---
---
The 2020 NBA Draft lacked a unanimous number one pick. But Oklahoma State Cowboys star freshman Cade Cunningham is ensuring that that won't be repeated.
ADVERTISEMENT
Article continues below this ad
During a recent conversation on ESPN's The Jump, NCAA analyst, and draft expert Mike Schmitz had high praise for the 19-year-old.
He said, "If you like step-back threes, 6'8 point guards, 40-point games, game-winner after game-winner, (Cade is) your guy. He's the Luka Doncic of college basketball when you talk about his positional size, his ability to get to his spots. He can score at all three levels, he makes everyone around him better."
ADVERTISEMENT
Article continues below this ad
Later, Schmitz praised Cunningham for his elite mentality, while also recognizing his results with the Cowboys. Cade joined a team no one would have expected to be in the NCAA tournament. But with just days left, the Cowboys prepare themselves to participate in their first tournament since 2017.
"I was blown away by his mentality," Schmitz said. "I thought I was talking to an NBA veteran. He has this unshakable confidence about him, and experts didn't even think that this team would be in the NCAA tournament."
Cade Cunningham leading the Cowboys to unexpected heights
The Cowboys had a great start to the season, going 6-0 against unranked opponents. But with the opposition growing tougher, their performances slightly dipped. But as the season progressed, Cade and the Cowboys became more accustomed to each other, and led by Cunningham's brilliance, they took down some big opponents like Texas, Texas Tech, and Kansas.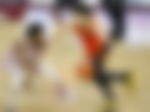 The Cowboys entered the Big 12 Conference tournament as the fifth seed, and once again, no one favored them to have a good performance. But they beat the likes of WVU and Baylor and reached the final of the tournament. Despite falling to the Texas Longhorns in the championship game, the Cowboys showed that they are a team to reckon with for the NCAA tournament.
ADVERTISEMENT
Article continues below this ad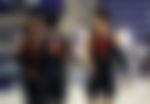 They enter the tournament as the #4 seed in the Midwest Region. To advance to the Final Four, they will have to beat the Illinois Fighting Illini. The Illini are the #1 seed in the Midwest region and 'the' team to beat for the Cowboys. If they win that game, they will have the momentum to go all the way potentially.
The Cowboys are a dark horse entering the tournament, and all eyes will be on Cunningham, as he aims to bring home the Cowboys' first NCAA title since 1946.
ADVERTISEMENT
Article continues below this ad