Luka Garza's Father Explains Why the Iowa Hawkeyes Star Never Sticks to a Comfort Zone
Published 03/15/2021, 4:00 PM EDT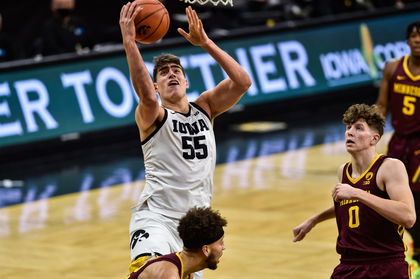 ---
---
Luka Garza has been enjoying the limelight for quite some years now. It is because he's been utterly dominant with the Iowa Hawkeyes. The 22-year-old will bid farewell to the Hawkeyes after their 2021 NCAA Tournament campaign, and much of Garza's success in Iowa can be attributed to his upbringing in life. 
ADVERTISEMENT
Article continues below this ad
Garza was born in Washington, D.C., and attended Maret School in the capital city. Garza recognized his basketball skills at a very young age and was physically strong, but he found the mental capacity to sustain his form on the fly. 
In fact, Luka Garza learned a lot about maintaining consistency from his father Frank. The latter has been a guiding light for Luka ever since his childhood and is an integral part of his success as an athlete. 
ADVERTISEMENT
Article continues below this ad
Frank Garza recently appeared on 'The Leadership Mastermind Podcast,' where he had an extensive chat about skill development and other important aspects of life. Though a lot of it was not related to basketball, Frank had some insight as to how Luka Garza constantly motivates himself.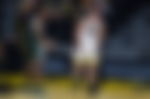 Frank says Luka Garza never settles into a comfort zone
That is essential for anyone to succeed in their lives, isn't it? Never stick to a comfort zone and keep exploring multiple opportunities. That's exactly what Frank Garza wants to instill in the minds of the next generation of athletes.
Furthermore, Luka Garza is a prime example of a player who never sticks to a comfort zone. The Hawkeyes center receives constant advice from his father about skill development and he never allows the fame to get to his head. 
"But the comfort zone is important. And Luka [Garza] experienced this. As a sophomore, he had a string of games where he was 21 and 12, and everyone said, 'Oh, you're the best big man in the country.' And all of a sudden, Luka said, 'No, I'm not. My comfort zone is 13 and six,'" Frank mentioned of Luka Garza.  
ADVERTISEMENT
Article continues below this ad
"So he went on the next four games and didn't even score…to make sure that the outside matches the inside. Because that's how it works," Frank Garza added. 
Frank Garza is a visionary who has incredible ideas to sharpen the minds of athletes. He has wonderfully mentored his son and has been enjoying the results. Click here to gain more insight as to what Frank's profession is. 
ADVERTISEMENT
Article continues below this ad
WATCH: Luka Garza Opens Up on Importance of His Training Regimen