Magic Johnson, LeBron James, and Dwyane Wade React to Jalen Suggs' Historic Game-Winner
Published 04/04/2021, 4:19 AM EDT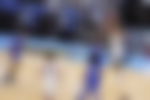 ---
---
It just felt unreal, yet we just knew this was coming. The Gonzaga Bulldogs marched their way into the 2021 NCAA championship game and they didn't do it in normal fashion. Freshman Jalen Suggs hit one of the most iconic buzzer-beaters to see his team through in overtime, which caused the internet world to go berzerk! 
ADVERTISEMENT
Article continues below this ad
It was plain agony for #11 UCLA as the team had tried everything to put a hold to Gonzaga's dominance. The Bruins tied the game at 90 with just three seconds left in overtime, but that's when freshman Suggs took control of proceedings. 
Jalen Suggs brings Gonzaga Bulldogs one step closer to history
ADVERTISEMENT
Article continues below this ad
The Gonzaga Bulldogs are now 31-0 in the season. They just have one more team to surpass, after which they'll become the first team since the 1976 Indiana Hoosiers to go undefeated. 
While that seems like a mile away, let's have a quick recap of how Jalen Suggs won the Final Four game for Gonzaga. The clock displayed just 3.3 seconds after Johnny Juzang converted a crucial offensive rebound into a bucket. 
The game was tied at 90 and the Bulldogs had to make a last-second gasp to win the game and avoid yet another OT. It is often in moments like these that great players step up, and Jalen Suggs was that player for Gonzaga. Here's how he sealed the deal: 
Suggs drained the game-winning three, stood up on the sideline, and screamed in jubilation. Later, he revealed that he always wanted to do to that celebration just like his idols Kobe Bryant and Dwyane Wade once did! 
Jalen Suggs, you're now a part of March Madness forever. pic.twitter.com/IvpDJUTuvg

— CBS Sports (@CBSSports) April 4, 2021
LeBron James, Magic Johnson, and Dwyane Wade reacted to Suggs' moment of brilliance
The iconic game-winning buzzer-beater by Suggs requires no validation. Yet, reading tweets made by three of the greatest basketball players in history would sure make Suggs' cells throb in excitement as Magic Johnson and LeBron James reacted to his game-winner on Saturday.
Magic Johnson has been retired for years now, but he has been through plenty of nerve-racking moments as a player. However, even a legend like Magic couldn't fathom what just happened in the final seconds of Gonzaga vs UCLA. He just posted an honest reaction to Suggs' game-winner. 
WOW!!!!!!!!!!!

— Earvin Magic Johnson (@MagicJohnson) April 4, 2021
Similar to Magic, LeBron James was taken aback by how UCLA and Gonzaga battled it out for a place in the National title game. 
One of the best games I've seen in a very long time!!

— LeBron James (@KingJames) April 4, 2021
However, the four-time NBA champion had immense faith that Jalen Suggs would make the shot as soon as he got the inbound. 
I said SUGGS about to hit this as soon as he crossed half court. GAME!!

— LeBron James (@KingJames) April 4, 2021
Dwyane Wade experienced a similar feeling too. The shot sent waves of euphoria to hoops fans all around the world, and D-Wade felt it strongly! 
ADVERTISEMENT
Article continues below this ad
I jumped on my kitchen table after you hit this shot bro 😆 https://t.co/rq6YUo53hI

— DWade (@DwyaneWade) April 4, 2021
Can Gonzaga and Suggs improve to 32-0 and win the NCAA title?
ADVERTISEMENT
Article continues below this ad
Read Also: Would the 2020-21 Gonzaga Bulldogs Beat The 2011-12 Anthony Davis-Led Kentucky Wildcats?