March Madness 2021: Abilene Christian Wildcats Earn Around $120 Million After Dream Run
Published 03/26/2021, 2:00 PM EDT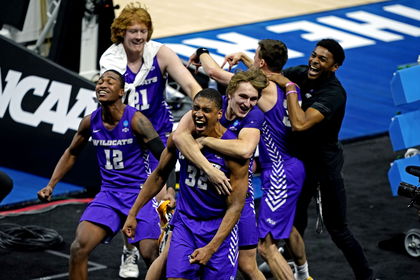 ---
---
March Madness tournaments are never short of upsets, and the 2021 edition has not disappointed. One of the biggest upsets from the first round was the Texas Longhorns losing to the Abilene Christian Wildcats.
ADVERTISEMENT
Article continues below this ad
In what was only their second NCAA tournament appearance, the Wildcats pipped the Longhorns 53-52. It was a historic win for the university, and it has led to consequential results as well. During an interview just before their second-round game, Dr. Phil Schubert, the president of the university, had some huge news.
"So far we are close to $120 million-plus and we really haven't had time to tally up the totals," Schubert revealed.
ADVERTISEMENT
Article continues below this ad
The $120 million is an estimate of what the college is likely to earn, through donations, sponsorships, and most importantly, advertising and reach. A lot of alumni pump in huge donations when their alma mater has such historic results. One can only imagine what the amount would have been had the Wildcats overcome the UCLA Bruins in their second-round game, which they sadly lost 67-47.
Looking back at the Wildcats memorable March Madness run
Although it lasted just two games, this run will be a memorable one for fans and alumni. While beating the Longhorns is a huge achievement itself, to do it in a nail-biting fashion makes it a lot sweeter for them. With less than 14 seconds left to go, the Wildcats had the ball and were down by one.
Senior guard Reggie Miller drove in to finish but got blocked. But Joe Pleasant was present at just the right spot to claim the offensive rebound. As he attempted a putback, the Longhorns fouled him and gave him the chance to win the game at the free-throw line.
ADVERTISEMENT
Article continues below this ad
As Pleasant took his first free throw, one could Airion Simmons praying for it. Pleasant is a career 59% shooter from the line, so one could understand why Simmons was nervous. But after he sank the first one, Simmons knew the second was going in too and didn't even bother to box out. Pleasant did as expected and got the lead for the Wildcats.
The Longhorns then failed with their Hail Mary attempt for a last-second winner. That sealed a superb win for the Wildcats, one which they will cherish for a long time.
Despite the loss in the second round, the Wildcats will and should be proud of what they achieved this season.
ADVERTISEMENT
Article continues below this ad