March Madness 2021: Analyst Believes Only Baylor Bears Capable of Challenging Gonzaga Bulldogs
Published 04/01/2021, 1:00 PM EDT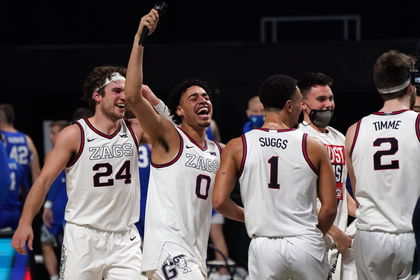 ---
---
The month of March is over, but the 2021 March Madness has three big games left. Gonzaga Bulldogs face the UCLA Bruins in the first Final Four game and the Baylor Bears face the Houston Cougars in the second game. While the tournament has been no short of surprises, the Bulldogs are expected to face the Bears in the final.
ADVERTISEMENT
Article continues below this ad
NCAA analyst and former coach Seth Greenberg feels the Bears are the only team who can challenge the Bulldogs. Greenberg was a two-time ACC coach of the year, before retiring in 2012. Since then he has become an analyst.
"The Baylor backcourt is a joke," he said on his recent appearance on ESPN. "They've played four games in the tournament and they've had three different leading scorers. And none of them are their two all-Americans: Butler and Mitchell. They score 83% of their points on the perimeter. By the way, they also do it on the defensive end. They force a turnover one-quarter of their possessions."
ADVERTISEMENT
Article continues below this ad
Gonzaga Bulldogs vs Baylor Bears: Clash of the titans
Gonzaga is easily the best team in the country. A lot of critics fail to give them credit because they play in the West Coast Conference. But their March Madness performances have justified why they deserve all plaudits.
At one stage, both Gonzaga and Baylor looked like they would stay unbeaten until the NCAA tournament final. However, Baylor fumbled the record and lost to Kansas. They lost once again, falling to Oklahoma State in the conference tournament. Meanwhile, Gonzaga has stayed unbeaten.
They are still the two best teams in the country, and fans will be expecting them to be in the final.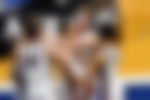 Will the powerhouses meet in the final or fall to another March Madness upset?
ADVERTISEMENT
Article continues below this ad
The Bulldogs and the Bears are the only #1 seeds left in the competition. Illinois was knocked out in the first round, while Michigan lost in the Elite Eight. Aside from these two, there have been multiple upsets so far, and so the Bulldogs and Bears will have to be careful.
They were supposed to face each other early in the season, but that game got canceled. It was never rescheduled as well. So fans have been anticipating this matchup for months now. It will be a battle of the best paint scoring team vs the best perimeter scoring team. And it will also be a battle of two teams fighting for their first-ever NCAA title.
ALSO READ –
ADVERTISEMENT
Article continues below this ad