March Madness 2021: Can the Gonzaga Bulldogs Pull Off Their Biggest Comeback in the Last Decade?
Published 04/05/2021, 10:38 PM EDT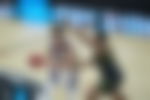 ---
---
Entering a game as the favorite can be a challenge. The Gonzaga Bulldogs came into the 2021 March Madness Final as the overwhelming favorites against the Baylor Bears, and they are currently feeling the pressure.
ADVERTISEMENT
Article continues below this ad
The Bulldogs are down by 10 at the half and have a lot of work to do. The Bears showed a lot of heart in the first 20 minutes while the Zags looked lost. This helped create a huge lead, and at one point, the biggest deficit was 19 points. The Zags fought to decrease it; however, they will have to pull off something they haven't done in a decade to win tonight.
Gonzaga trailed by as many as 19, and cut the deficit to 10 at the half. The Bulldogs largest comeback over the last 10 seasons is 17 in 2015 against Saint Mary's pic.twitter.com/Znmz1SQXNl

— ESPN Stats & Info (@ESPNStatsInfo) April 6, 2021
ADVERTISEMENT
Article continues below this ad
The biggest deficit that the Zags have overcome in the last decade is a 17-point comeback. It came against the Saint Mary's Gaels back in February 2015. The Zags ended up winning that game by ten points, and they need to do something similar tonight. But this will be a lot tougher, considering they are facing the pressure of the Final, and Baylor is a lot stronger than Saint Mary's.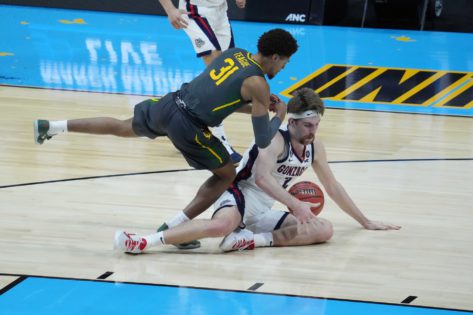 Can the Gonzaga Bulldogs fight back to win the March Madness title?
Right from tip-off, the Bulldogs have looked like the second-best team. They have given away a lot of silly turnovers, haven't fought at the glass which led to a 14-8 rebounding battle at halftime, and have been poor with their outside shooting.
On the other hand, the Bears have come out with a serious will to win. Being the underdog motivates some teams a lot, and the Bears look eager to show that they are only an underdog on paper and not on the court.
ADVERTISEMENT
Article continues below this ad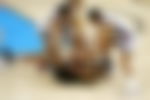 The Gonzaga players need a big pep talk from Coach Mark Few at halftime. He needs to get his players to keep their cool on both ends and not get flustered. The Bulldogs' offense has looked sloppy at times, and their defensive disarrays have gifted a few buckets to the Bears. They know they can play a lot better than this and will be able to win the game if they improve.
Towards the end of the half, the Zags improved a lot, going on a 9-2 run to close out the half. They need to return to the second half with the same momentum. If they are able to do so, they will be on their way to their first-ever March Madness title.
ADVERTISEMENT
Article continues below this ad