March Madness 2021: Ohio Bobcats' Jason Preston Explains What He Studies From LeBron James and Chris Paul
Published 03/23/2021, 1:00 PM EDT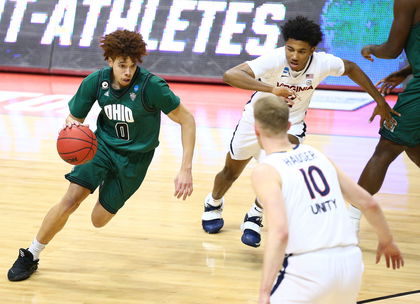 ---
---
The 2021 March Madness has had no shortage of unexpected results so far. In one of the biggest upsets, the Ohio Bobcats toppled defending champions, Virginia Cavaliers, in the first round of the tournament.
ADVERTISEMENT
Article continues below this ad
They were led by junior guard Jason Preston, who had 11 points, 13 rebounds, and eight assists. Later, during an interview, Preston revealed which players he studies and learns from.
ADVERTISEMENT
Article continues below this ad
"LeBron James and Chris Paul are the two guys I have watched every single possible film of. It's just the many different ways they can affect the game. They can post up, attack with scoring and passing, great out of pick and roll, great out of isolation. They're great manipulators of defenses. So I really studied those guys," Preston said.
LeBron and CP3 are two of the deadliest playmakers the game has ever seen. They know how to split defenses with their passes and find the best opportunities for their teammates. If Preston is dedicated to learning from them, he is only going to improve further.
Ohio Bobcats' March Madness journey ends in a second-round loss
The Bobcats were ranked #13 in the West region. They entered the tournament after almost a decade when they reached the Sweet Sixteen in 2012.
During that run, they took down a powerhouse, the Michigan Wolverines, in the first round. They followed it up with a win over the South Florida Bulls to reach the Sweet Sixteen. But the North Carolina Tar Heels beat them in the next round to end their Cinderella run.
ADVERTISEMENT
Article continues below this ad
They were on their way to emulate that run after beating the Cavaliers in the first round. It was a close four-point win, but the Bobcats were gritty and held onto their lead. However, they faced another strong opponent in the second round, after being matched up with the Creighton Bluejays.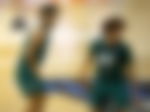 The Bobcats struggled on offense during the game, with Preston going just 1-10 from the field. He tried to make up for his poor scoring with nine rebounds and seven assists, but it was not enough. The Bobcats fell to a 58-72 loss and crashed out. Although it lasted just two games, it was a memorable run for the Bobcats.
ADVERTISEMENT
Article continues below this ad