March Madness: Five Greatest Shot Blockers in NCAA Basketball History
Published 02/28/2021, 2:36 AM EST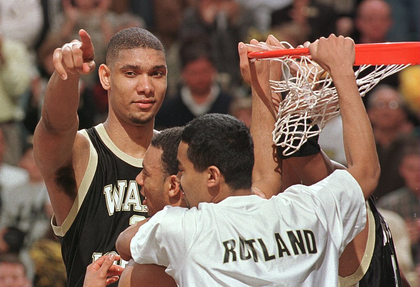 ---
---
NCAA Basketball always produces exciting talents who then go and dominate the NBA. There are several players who have evolved as offensive stalwarts and others as defensive dominators. In this article, we will look into the latter section. 
ADVERTISEMENT
Article continues below this ad
There are several athletes who marked themselves as talented defensive stoppers through NCAA Basketball. They gained a reputation through this stage, and shot-blocking is one of the most important aspects that elevate a player's status. 
NCAA Basketball: Five of the most dominant shot blockers in history 
ADVERTISEMENT
Article continues below this ad
Shot-blocking requires tremendous athleticism to deny an opponent. College basketball has always been a stage that builds incredible athletes, and here are five players who recorded the most blocks in NCAA Basketball. 
Before we look into the Top 5, it should be noted that 'blocks' were identified as a major statistic only from the 1985-86 season. Hence, several notable players like Hakeem Olajuwon and David Robinson are denied a place on the leaderboard.
5. William Mosley – Northwestern State 
Six-foot-eight William Mosley played for the Northwestern State Demons in his college career and completed four years with the team. Mosley was a highly reputed shot-blocker right from his freshman season when he ranked second nationally in blocks per game among freshmen. 
Mosley averaged 3.1 blocks per game in his sophomore and junior seasons and never made less than eight rebounds per game in his entire NCAA Basketball career. The Louisiana native made a total of 156 blocks in 32 games as a junior! 
Years Active: 2008-2012
Blocks Recorded: 455
4. Tim Duncan – Wake Forest
Here is a vastly familiar name that makes the list. Tim Duncan is renowned for his NBA heroics, but the 6'11" athlete holds a similar reputation in NCAA Basketball as well. Duncan was a two-time ACC player of the year and led the NCAA in rebounds during the 1996-97 season.
As for blocking, Tim Duncan hardly let opponents score past him. He massively dominated in his sophomore season and averaged 4.2 blocks per game! The same season Duncan ended up with 135 blocks in 32 games and did not slow down in his junior and senior seasons as well!
Years Active: 1993-1997
Blocks Recorded: 481
3. Adonal Foyle – Colgate
Adonal Foyle played one season lesser than Tim Duncan but still managed to record more blocks than him. Such was the dominance that he brought onto the defensive end. 
Foyle's carrer-average is an astounding 5.7 blocks per game, and what's more impressive is that he made 180 blocks in just 28 games as a senior with the Colgate Raiders! 
Years Active: 1994-1997
Blocks Recorded: 492
2. Wojciech Myrda – Louisiana-Monroe
Wojciech Myrda was born in Poland but later moved to the United States, where he attended the University of Louisiana at Monroe. 
Standing at seven-foot-two, Myrda was an intimidating presence on defense and blocked 172 shots in his final year at Louisiana-Monroe, which is also the ninth most by a player in a single season. 
Years Active: 1998-2002
Blocks Recorded: 535
1. Jarvis Varnado – Mississippi State
Wojciech Myrda was the NCAA's all-time blocks leader until Varnado came along. The latter played with the Mississippi State Bulldogs for four seasons where he emerged as a premier shot-stopper. 
ADVERTISEMENT
Article continues below this ad
Varnado led the NCAA in blocks in back-to-back seasons, exactly made 170 blocks in each of his junior and senior seasons with the Bulldogs. Varnado is now the NCAA's all-time leader with a total of 564 blocks made in his college career!
Years Active: 2006-2010
Blocks Recorded: 564
ADVERTISEMENT
Article continues below this ad