Meet Frank Garza, the Visionary Father of Iowa Hawkeyes' Luka Garza
Published 03/09/2021, 3:00 PM EST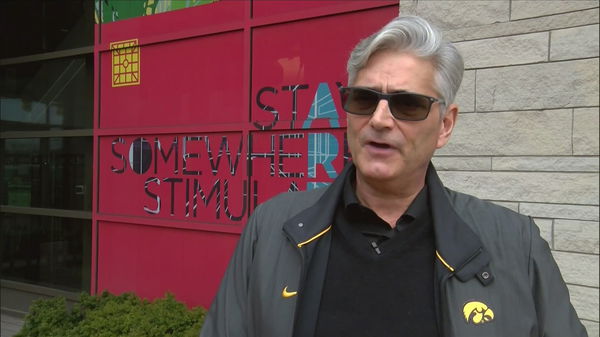 ---
---
Luka Garza will no longer lace up for the Iowa Hawkeyes from the 2021-22 college basketball season. The Hawkeyes senior will bid farewell to the team upon the conclusion of the 2021 season, and fans will miss watching his father Frank as much as they will miss Luka. 
ADVERTISEMENT
Article continues below this ad
Luka's father Frank Garza has quickly attained popularity among Hawkeyes fans. He is the father of the 6'11" center who has transformed Iowa into a Big Ten conference powerhouse, but Frank is known for much more. 
Frank Garza has been attending all of Iowa's games ever since Luka's freshman season, but he gained massive fame when he was mic'd up during Iowa's game against Tennessee in the 2019 NCAA Tournament. 
ADVERTISEMENT
Article continues below this ad
"You've got to let the peacock fly!" Frank Garza screamed during the broadcast. It has since become one of his famous mantras, and Hawkeyes fans have accepted him as an invaluable member of the family due to his passion for the game.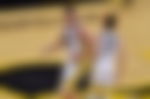 What does Frank Garza do for a living?
Frank Garza is a frequent presence at Iowa's games. He is six-foot-six and his frame can hardly go unnoticed in a crowd. However, he does have a serious profession besides commentating on his son's basketball games. 
As per his Twitter bio, Frank Garza is a man of multiple talents. He's listed himself as an economist, human performance and development specialist, master sales, management, & leadership trainer. 
He has about 13.5 thousand followers on his Twitter, and Garza is a visionary. He co-founded the brand 'Conscious Selling' in 2017 along with GuruGanesha. The company instills a different type of mentality into sales professionals and claims to improve their efficiency. 
On a similar note, Frank Garza also runs a sports development program called 'Elvevate' and offers leadership training on various levels. It is incredible to see Frank Garza motivate the upcoming generation of athletes with insights about mental preparation. 
These are Frank Garza's main business affiliations. Safe to say that Luka Garza has wonderful company to talk about life, sports, and everything in between. 
Luka Garza sees Frank as his best friend
It is important for upcoming athletes to have solid backing from their parents. Luka Garza is lucky in that regard as his father is completely focused on making his son one of the best players to play the game. 
"He's more than a dad to me. He's a coach and he's kind of a best friend," Luka Garza said about his father. Luka's father acts like his best-friend while attending games too. Frank sits next to Luka's girlfriend Maggie Mynderse and has a hard time controlling his emotions. 
"Constantly I'm apologizing to Maggie because I'm either elbowing her or just having some reaction she doesn't know what's happening so I'm constantly just trying to apologize for being too loud," Frank Garza mentioned. 
ADVERTISEMENT
Article continues below this ad
Frank played college basketball for the Idaho Vandals but was unable to carve out a successful career afterward. Now, he's ensuring that his son scales great heights that he missed out on achieving as a professional athlete. 
"We'll talk about the game, it's something we talk a lot about and strategize on and we prepare and do different things for the game but that's been our whole lives together," Frank Garza said. 
This will be a success story for the ages. There is so much similarity between Frank and Luka, and it feels like the latter is striving to get a double-win for his father as well. 
ADVERTISEMENT
Article continues below this ad