NBA Executive Explains Difference Between Duke Blue Devils' Paolo Banchero and Gonzaga Bulldogs' Chet Holmgren
Published 05/11/2021, 6:30 PM EDT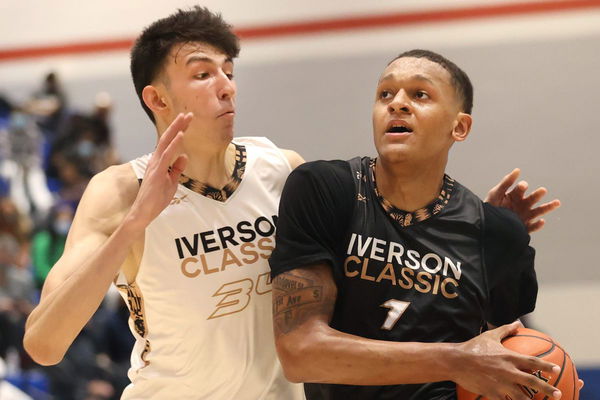 The 2021-22 season of NCAA basketball is going to have a few promising new additions. Duke Blue Devils' Paolo Banchero and Gonzaga Bulldogs' Chet Holmgren are two of the most exciting names in the pool. While they are yet to play a college game, NBA scouts are already keeping their eyes on them.
ADVERTISEMENT
Article continues below this ad
In the recent Iverson Classic, both Banchero and Holmgren went head to head and impressed. The rankings may have Holmgren ranked number one and Banchero as three, but NBA scouts were undecided. But one executive from a NBA finals contender had an interesting way to explain the difference between Banchero and Holmgren with regards to where they stood currently.
"If I needed someone to throw into a NBA game tomorrow, Paolo Banchero could give my team 15 and 8 and fit in perfectly with our group in terms of skill, feel and competitiveness wise," the executive said. "He has everything you look for at his position and plenty of room to grow too."
ADVERTISEMENT
Article continues below this ad
"But if I'm a lottery team picking who I think will be the best long-term prospect five years down the road, though, I'm taking Chet. There's just more downside there."
Will Paolo Banchero lead the Duke Blue Devils back to their glory days?
ADVERTISEMENT
Article continues below this ad
The executive's comments clearly prove how Banchero is already a mature player. If he believes Banchero can deliver 15 and eight in the NBA, he can definitely do better in the NCAA. A few clips from his high school days show Banchero is already a man amongst boys.
Banchero will be joined by fellow top prospects AJ Griffin and Trevor Keels. Together, they form the most exciting freshmen trio in the country. Banchero will be expected to lead them, and fans will hope he can help them return to the top once again. The Blue Devils haven't won the ACC regular season title since 2010 and the NCAA tournament since 2015. Banchero will be keen to end both of these barren runs.
ADVERTISEMENT
Article continues below this ad
Fans across the country will also be looking forward to his exciting matchups with Holmgren. Two of the country's top talents battling against each other is box office. There will be a lot of pressure on both and scouts will be eager to see who can come out on top. The 2021-22 season promises to be an exciting season, and fans can't wait for it to begin.