Kentucky's Coach Calipari Has a Special Message for Critics of New York Knicks
Published 11/24/2020, 8:26 AM EST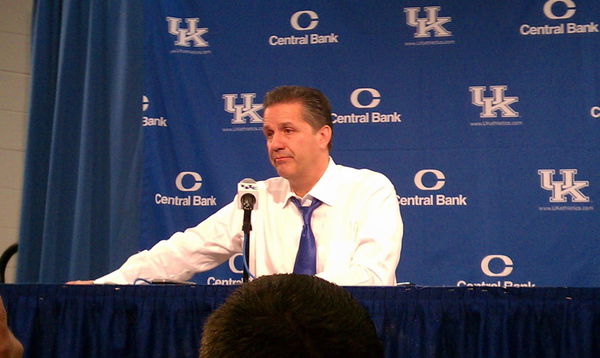 ---
---
The New York Knicks have made some moves in free agency this offseason, but none of the moves will alter how their team will perform next season. Having trained an eye on the future, Kentucky coach John Calipari has taken the time out to discuss the Knicks and their off-season.
ADVERTISEMENT
Article continues below this ad
"The Knicks are on a different path. You may not see the results right away overnight. It took us a while to get here. It's going to take a little while to get us where we want to go. So, let this thing play out, and, in the end, everyone will be pleased."
Kentucky's John Calipari on NYK: 'They have a proven coach…They're trying to build from within.' He notes NYK coaches can help develop young players. Calipari, who's close w/Leon Rose, says NYK observers should be patient: 'In the end, I think everybody's going to be pleased.'

— Ian Begley (@IanBegley) November 23, 2020
ADVERTISEMENT
Article continues below this ad
Coach Calipari commented on the decision to sign Nerlens Noel as well. "Nerlens was a great pickup, and let me tell you why. It's time to break-through for him.
"Now, what they're trying to do and how they're trying to do it, they're not trying to do it in a hurry. They have a terrific coach, a proven coach, a playoff coach."
Calipari has shared a close relationship with the Knicks, with 4 of his former players currently on the roster. However, he has reiterated on many occasions that he will not join the organization.
New York Knicks: Is their offseason good enough?
ADVERTISEMENT
Article continues below this ad
Well, no. One cannot argue that the Knicks had a good offseason because their team doesn't look worse for the 2020-21 season. What they did do well is maintain the flexibility to sign big-name free agents in 2021 when guys like Giannis Antetokounmpo will be available.
However, this is a tale as old as the Knicks itself. The Knicks never land these big free agents and have entrapped themselves in a cycle of going after them and whiffing.
LeBron James, Kyrie Irving, and Kevin Durant are just examples from the last 3 offseasons. But not giving Gordon Hayward the money Charlotte gave him was a good move.
ADVERTISEMENT
Article continues below this ad
Considering the youth of the team, coach Tom Thibodeau could shape them into title contenders. However, it just never seems to be the case for the Knicks who have been in this rebuild since the early 2000s now. Hopefully, Calipari's optimism isn't for nothing.