NCAA Analyst Says Gonzaga Bulldogs Will Not Be Remembered As 'One Of The Greatest Teams' in NCAA History
Published 04/05/2021, 12:30 PM EDT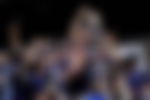 ---
---
The Gonzaga Bulldogs are playing to ensure that their name stands apart from all the NCAA Champions that have come before them. There are a lot of iconic teams with tremendous championship victories. However, this Bulldogs team looks to become the first team in 45 years to win the national title undefeated.
ADVERTISEMENT
Article continues below this ad
But they almost slumped in the Final Four to the UCLA Bruins. Despite those struggles, Jalen Suggs hit a buzzer-beating three to help the Bulldogs beat the Bruins in OT to win the game. That shot has immortalized Suggs, but an NCAA analyst believes that the Bulldogs will not be remembered like how Suggs' shot will. This is even if they beat the Baylor Bears to win the title.
ADVERTISEMENT
Article continues below this ad
"That guarantees that Jalen Suggs lives on in some form forever. I'm not sure this Gonzaga team will. If they win tonight, they will. But I'm not sure they will win tonight. Even if they do, I know they'll be the first undefeated team in 45 years, but they're not gonna be considered one of the greatest teams in the history of college basketball."
Gonzaga Bulldogs: Will they be remembered differently?
It is hard to gauge how the Gonzaga Bulldogs will be remembered if they actually beat the Bears. After all, there is no real precedent except a team back in the 1960s. However, that Indiana Hoosiers team is not remembered as fondly as other former champions.
ADVERTISEMENT
Article continues below this ad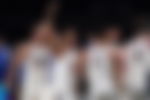 There have been imperfect teams that many claim would be better than some teams that have gone undefeated. This includes the early 1980 UNC Tar Heels teams with Michael Jordan. In recent years, we saw the 2012 Kentucky Wildcats led by Anthony Davis be a force. While the Bulldogs have been undefeated, and win 90% of those games by double-digits, they won't be remembered the same.
ADVERTISEMENT
Article continues below this ad
Many people feel the Bulldogs didn't face tough competition. However, they faced enough ranked opponents in the season and comfortably beat them. Outside the Bruins and BYU in the regular season, no team has even challenged the Bulldogs. But their legacy is something that will be decided by fans after the Finals tonight.