NCAA Basketball Fraternity Mourns Passing of Grand Canyon Basketball Forward Oscar Frayer On Twitter
Published 03/24/2021, 10:44 AM EDT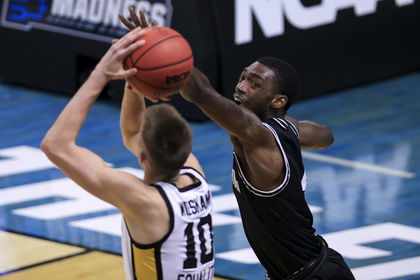 ---
---
Grand Canyon Basketball lost a dear member yesterday. Senior forward Oscar Frayer passed away from injuries sustained in a tragic car accident three days after playing his final game in the NCAA. That game came under the bright lights of March Madness. While Frayer and his Grand Canyon Antelopes would end up losing to the Iowa Hawkeyes, it was a proud moment for the program.
ADVERTISEMENT
Article continues below this ad
Frayer himself had a big moment in the game, swatting Hawkeyes guard Connor McCaffrey's shot when he went for a layup. Frayer started every single game of the season and was having a comeback season. He was ineligible to play basketball last season and played this season as a redshirt senior.
ADVERTISEMENT
Article continues below this ad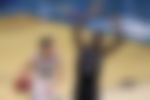 The college basketball world on Twitter have been stunned by the news. Tributes have poured in for Frayer, who was a mainstay of the Antelopes' team for the better part of five years. His passing is shocking and sudden. We send out our condolences to all his loved ones, teammates, and classmates.
Grand Canyon Basketball: Twitter reactions to Frayer's passing
Long-time high school basketball standout Kyree Walker sent out his tribute to Frayer, expressing his sadness at losing Frayer. Someone he looked up to.
I love you O, you was my role model man. You believed in me from the jump, ain't many people really truly care abut me but you did. Will always be my big bro! @Oscar_Frayer RIP BROTHER! THIS FOR YOU!

— Kyree Walker (@kyreewalker1) March 24, 2021
The New Mexico State Aggies sent out their tribute for Frayer as well, extending their support to his family and friends with Grand Canyon Basketball.
Journalist and sports writer Andrew Joseph sent out a message for Frayer, sharing the clip of his spectacular play in March Madness over the weekend.
Life is so fragile. GCU's Oscar Frayer died today, three days after this spectacular play in the NCAA Tournament. RIP https://t.co/JJHIKJGW6m

— Andrew Joseph (@AndyJ0seph) March 24, 2021
Assistant coach at Cal State Fullerton, Brandon Dunson, also sent out a message, calling Frayer an outstanding competitor.
Prayers up to everyone affected by Oscar Frayer's death. An outstanding competitor who had his entire life in front of him. Don't take life for granted. Rest In Peace!

— Brandon Dunson (@BMDunson) March 24, 2021
Houston Rockets Assisted Director of Player Personnel Chuck Hayes remarked on having met a young Frayer in 2015 and recalling how he instantly became a fan of him.
Took a liking to Oscar Frayer when I met the young man back in 2015. Had an energetic spirit to his character and instantly I became a FAN. 😔😔💔💔 RIP young fella. Praying for his family.

— chuck hayes (@c_hayes44) March 24, 2021
Assistant coach for the South Mountain CC Basketball and head coach for Glenview Hoops, Chris Diaz remembered the time he spent working with Frayer at GCU.
Rest in Paradise @Oscar_Frayer. Had a lot great times at GCU with you… Never take for granted the time spent with your loved ones.

— Chris Diaz (@CoachChrisDiaz) March 24, 2021
Valley Christian Men's Basketball Head Coach Mark DeLuca shared how he met Frayer and also sent his condolences to his family and the Grand Canyon Basketball program.

ADVERTISEMENT
Article continues below this ad
Tragic and heartbreaking news about Oscar Frayer. First time I saw him play was at Tice Valley & he was in the 6th grade.He was amazing & obviously an elite talent. My prayers go out to his family, GCUMBB , Moreau Catholic HS basketball program & my friend @fknightsays . RIP 🙏🏾. pic.twitter.com/Q6GceFGBU5

— Mark DeLuca (@coachdeluca33) March 24, 2021
Frayer spent his entire college career with the GCU Antelopes and started almost every game for his career with the team. He averaged 6.6 points, 2 assists, and 2.5 rebounds for the 2020-21 season. His career averages are 8 points, 4.3 rebounds, and 1.2 assists.
ADVERTISEMENT
Article continues below this ad