NCAA Basketball: Teams With the Most Division I Championships in History
Published 02/17/2021, 12:00 PM EST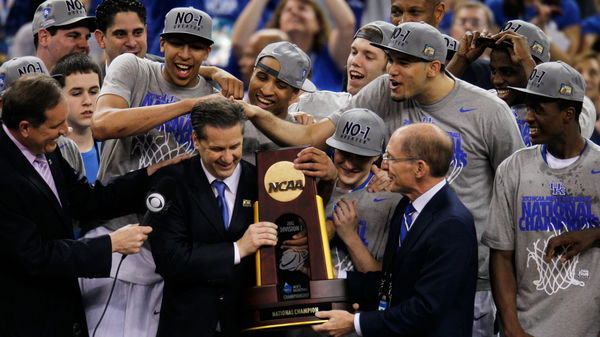 ---
---
The NCAA Division I basketball tournament is nothing but thrilling. March Madness always brings plenty of excitement as top teams across the nation compete for the most prestigious prize in college basketball. But who's won it the most? 
ADVERTISEMENT
Article continues below this ad
The NCAA Division I tournament has been around since the 1930s. The event has gradually evolved into one of the biggest ones in the USA as college basketball has gained a massive fan following for itself. 
Teams with the most NCAA Basketball Championships in history 
ADVERTISEMENT
Article continues below this ad
There are several esteemed college programs that take part in the NCAA Division I basketball tournament every year. 
A total of 15 schools have won multiple titles, which denotes how competitive March Madness can get. Without further adieu, here are the five most decorated teams in NCAA Basketball history!
5. UConn Huskies
Years Won: 1999, 2004, 2011, 2014
University of Connecticut men's basketball team or otherwise known as UConn Huskies has won the national championship four times in history. Their most recent triumph came in 2014, and the Huskies have a 100% winning record whenever they reach the NCAA Championship game. 
T4. Indiana Hoosiers 
Years Won: 1940, 1953, 1976, 1981, 1987
Indiana was a dominant force in the 1970s and the 1980s when they were led by head coach Bob Knight. Coach Knight led the Hoosiers to the National Championship in 1976 and recorded a perfect 32-0 run, a feat that is still unmatched by any other school since Indiana's dominance. 
T4. Duke Blue Devils
Years Won: 1991, 1992, 2001, 2010, 2015
The Duke Blue Devils are one of the most successful schools in NCAA Division I history. They've won five championships to date and it is important to mention that all five titles came under head coach Mike Krzyzewski after he took over in 1980. 
Moreover, Duke and Kansas are also the two schools that are tied for most runner-up finishes in history with six.
3. North Carolina Tar Heels
Years Won: 1957, 1982, 1993, 2005, 2009, 2017
UNC holds a special recognition on this list as the most recent champions. The Tar Heels have been to the Championship game 11 times out of which they've won five. Dean Smith is North Carolina's most celebrated coach as Smith won two titles and more importantly worked with the school as the head coach for a period of 36 years. 
2. Kentucky Wildcats
Years Won: 1948, 1949, 1951, 1958, 1978, 1996, 1998, 2012
The Kentucky Wildcats sit second on the all-time list with eight championships to their name. They're still far off from the leaders, but Kentucky would be proud of what it achieved over the years. 
Adolph Rupp was Kentucky's first championship-winning head coach in 1948, and Rupp repeated the triumph in the subsequent season as well! 
The Wildcats' most recent triumph came in 2012 when coach John Calipari and his team defeated the Kansas Jayhawks in the Championship game. 
1. UCLA Bruins 
Years Won: 1964, 1965, 1967, 1968, 1969, 1970, 1971, 1972, 1973, 1975, 1995
UCLA is the most decorated team in the history of NCAA Basketball. No other school dominated the 60s and the 70s quite like the Bruins and they were a class apart. They went unbeaten for four seasons, and here's a fact about UCLA's insane winning run, per NCAA.com: 
ADVERTISEMENT
Article continues below this ad
"From 1964 to 1975, UCLA had an overall record of 335-22, a win percentage of .938."
This implies that UCLA enjoyed an incredible amount of success during a particular era and they had great players too. The Bruins won seven in a row between 1967-1973, and Basketball Hall of Famer Kareem Abdul Jabbar played a part in three of those championships. 
ADVERTISEMENT
Article continues below this ad