NCAA Basketball: Who are the Top Scorers in March Madness History?
Published 02/22/2021, 1:00 PM EST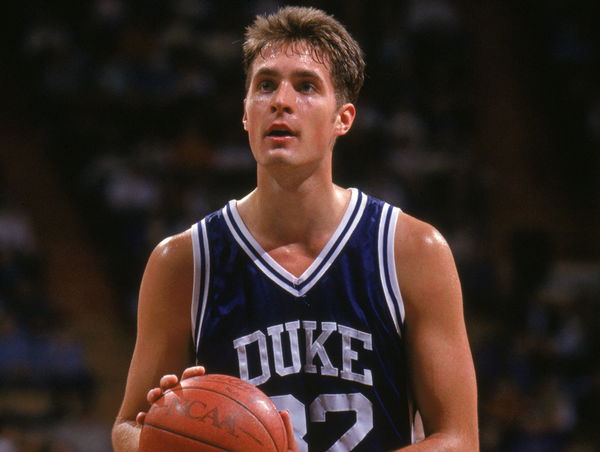 ---
---
The NCAA tournament or 'March Madness' has seen several incredible players grace the stage since its inception. There were some real talents who made game-winning shots and won the National Championship for their teams.
ADVERTISEMENT
Article continues below this ad
A major aspect of basketball is scoring points. The sport is based on numbers, and players strive hard to reach atop the points leaderboards. So who are the points leaders when it comes to March Madness? 
March Madness: Five elite scorers in the history of the tournament
ADVERTISEMENT
Article continues below this ad
5. Glen Rice – Michigan Wolverines (1985-89)
Former Michigan forward Glen Rice had an illustrious college basketball career. He won the NCAA championship with the Wolverines in 1989 and was named Final Four's most outstanding player that year. 
Rice averaged 18.2 points and 6.4 rebounds in 56.9% field goal shooting in his college career and went to the NCAA tournament in all of his four seasons with Michigan. Here's why he's the fifth top-scorer in March Madness history. 
NCAA Tournament games: 13
Points: 308
4. Oscar Robertson – Cincinnati Bearcats (1957-60)
Oscar Robertson is regarded as one of the best college basketball players in history, much like the status he enjoys in the NBA. There have been very few players like 'the Big O,' who sits 11th in the list of top scorers in college basketball history with 2,973 points. 
Furthermore, Robertson also won the NCAA scoring title for three consecutive years and is the Cincinnati Bearcats' all-time leader in rebounds and field goals made! Robertson averaged 33.8 points and 15.2 rebounds in three seasons with the Bearcats. 
NCAA Tournament games: 10
Points: 324
3. Danny Manning – Kansas Jayhawks (1984-88)
We saw that Oscar Roberton is 11th on the all-time points scored in college basketball, and Danny Manning is just behind him in the 12th spot (2,951 points)! 
Manning will be remembered as one of the most dominant big men in college basketball history. The 6'10" athlete won the 1988 NCAA Championship with the Jayhawks in his senior year which cemented his legacy in history! 
Manning played four seasons with the Kansas Jayhawks where he averaged 20.1 points and 8.1 rebounds in 59.3% FG shooting. 
NCAA Tournament games: 16
Points: 328
2. Elvin Hayes – Houston Cougars (1965-68)
Elvin Hayes was a beast of a player during his college days. Much of his success in the NBA can be attributed to what he learned from college basketball. The 6'9" big man averaged 27.2 points as a rookie in Houston, and the numbers only kept growing in the subsequent seasons. 
Hayes scored 2,884 points in his college career and averaged an astounding 31.0 points and 17.2 rebounds in three seasons with Houston! 
NCAA Tournament games: 13
Points: 358
1. Christian Laettner – Duke Blue Devils (1988-92)
Christian Laettner's NBA career didn't exactly turn out as everyone expected it to, but he is an eternal legend of college basketball. Laettner is one of the most successful March Madness performers ever, as he won two championships with the Duke Blue Devils and made the iconic 'shot' that will never be forgotten! 
ADVERTISEMENT
Article continues below this ad
Laettner played four seasons with Duke and averaged 16.6 points and 7.8 rebounds in 148 games. Moreover, he always took his game to the next level upon entering the NCAA tournament, and that's why he's at the top of this list.
Laettner guided Duke to the Final Four in all of his four seasons with the team which is a massive achievement. 
NCAA Tournament games: 23
ADVERTISEMENT
Article continues below this ad
Points: 407