'Not Afraid of the Moment'- NBA Draft Expert Projects Gonzaga Bulldogs' Jalen Suggs To 'Play With Jrue Holiday' Toughness
Published 03/16/2021, 4:00 PM EDT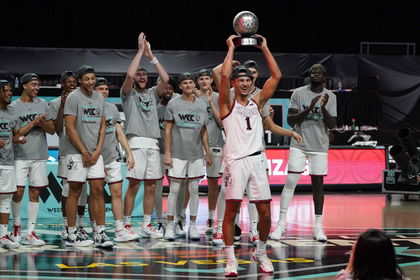 ---
---
The Gonzaga Bulldogs may just be on their way to an undefeated season which ends with an NCAA title. However, those dreams are loftier than most would reckon. However, dreams that aren't as lofty this late into the season are Gonzaga getting multiple top picks in the 2021 NBA Draft.
ADVERTISEMENT
Article continues below this ad
NBA Draft analyst Mike Schmitz broke down several factors heading into the 2021 NBA Draft. Amongst his topics of discussion was the status of Gonzaga players heading into the draft, and he had good things to say.
"It's Gonzaga. They have two projected top ten picks. When you look at Jalen Suggs, a top five pick, and Corey Kispert, who we have going number ten right now.
ADVERTISEMENT
Article continues below this ad
"With Suggs, I look at a Jrue Holiday toughness in him. A guy that plays with toughness and energy. He's explosive and is a big time shot maker. We saw him against BYU in the WCC Final. He is not afraid of the moment."
He also broke down Corey Kispert's value, comparing him to Brooklyn Nets swingman Joe Harris. Considering how much Harris got paid this offseason, that is not a bad comparison to make.
Gonzaga Bulldogs: Will they have the most representation in the top-ten?
ADVERTISEMENT
Article continues below this ad
The Gonzaga Bulldogs with two-top ten players marks a drop-off from previous years, with one college dominating the draft. We saw 2019 be a special case, with three Duke players going in the lottery. However, Gonzaga may get two of theirs to go super high up in Suggs and Kispert.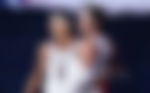 Suggs is considered to be a part of the generational guards that are entering this league. While his stock may not be as high as Cade Cunningham, Suggs definitely will be the second-best guard heading into the draft. If the Bulldogs can furnish their trophy cabinet with an NCAA Championships, Suggs' value may go up.
ADVERTISEMENT
Article continues below this ad
Kispert is more of a modern NBA player in his play-style already. His shooting ability and talent at the forward spot make him a very valuable addition to any team. His talent will definitely translate into the NBA, and he may be one of the safer picks in the draft.