Ohio State Buckeyes' E.J. Liddell Shares Experience of Dealing With Abuse After March Madness Defeat
Published 03/27/2021, 1:00 PM EDT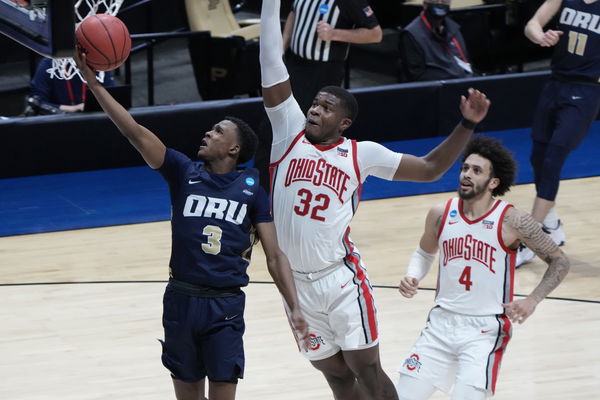 ---
---
The Ohio State Buckeyes suffered a heartbreaking first-round loss in the 2021 March Madness tournament. Coming in as a #2 seed, the Buckeyes were a top team all season, but faltered at the big stage.
ADVERTISEMENT
Article continues below this ad
If the loss wasn't tough to deal with, sophomore forward E.J. Liddell received abuse from fans after the result as well. He took to Twitter and had an emotional post where he wrote that he's also human. A few days since then, he appeared on the Titus and Tate show where he spoke what made him share those messages on Twitter.
"…Why would somebody say something like that just of a basketball game. At the end of the day, we have to realize it's just a game. I don't think anybody should be spoken to like that," he said.
ADVERTISEMENT
Article continues below this ad
During that game, Liddell scored a team-high 23 points and went 10-15 from the field. He also had 14 rebounds to cap an amazing performance. However, he missed a crucial free throw which could have won the game for the Buckeyes. That's why those so-called fans gave him abuse, which is insane and also inhuman.
Liddell talks about the tough journey from start of the season to March Madness
Later on in the interview, Liddell also explained how those messages hurt more since the team had already sacrificed so much.
"These messages just stuck out because it was after a heartbreaking and season-ending loss. People don't understand how much we gave up this year just to play. We gave up our social life, couldn't really see our families. We gave up our blood, sweat, and tears just to play together," Liddell said.
A lot of those players haven't been away from their family for months now, just so they could play for the college and their fans. And so when those fans fail to understand what they're going through, and add on with abuse, it can be heartbreaking.
ADVERTISEMENT
Article continues below this ad
While Liddell shared his situation, there might be other players who chose to not share theirs. Sometimes the negativity is too much to handle for some players and they get affected. This is why fans need to understand players are also human and they are bound to make mistakes.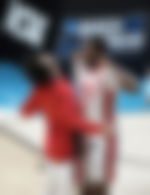 Liddell might have been interested in declaring after this season, but their upset may inspire him to return next season to help the team get their revenge in the tournament.
ADVERTISEMENT
Article continues below this ad