'Major Issues with Authority': Villanova Head Coach Recalls How Kyle Lowry was As a Freshman
Published 01/18/2021, 5:00 AM EST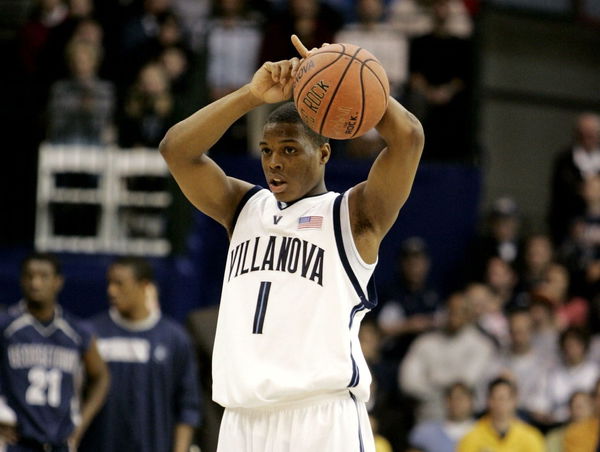 ---
---
Kyle Lowry is known as a composed athlete who stays loyal to his team. Lowry's quite the leader when it comes to basketball, and his efforts reaped success in 2019, as the Toronto Raptors won the NBA championship under his guidance. But Lowry was a totally different personality in college. 
ADVERTISEMENT
Article continues below this ad
College basketball is where aspiring ballers realize their potential and shape shift their games. Likewise, Kyle Lowry underwent a massive transformation before he joined the NBA from college. 
Jay Wright described how Kyle Lowry was a tough nut in college 
ADVERTISEMENT
Article continues below this ad
Lowry attended Villanova University and played with the Wildcats, where he structured his game under head coach Jay Wright. But Wright didn't have the easiest of times with the talented point guard. 
Lowry spent two seasons with the Wildcats before declaring for the NBA draft. He learned valuable aspects of the game under the experienced Jay Wright, but the latter had a hard time disciplining Lowry in his freshman year. 
"But, 'phew,' when he was a freshman, I even had to say to you guys, this guy [Lowry] is a really good player, he's a good guy at heart, but he's got major issues with authority and being coached, and I need your guys' help," Wright told Villanova alum Jason Fraser on his podcast.
Wright's stern warnings disciplined Lowry
Fraser and Lowry were teammates at Villanova, and the former now hosts a show called: 'Blueblood on the Mainline: A Villanova podcast,' where the legendary Jay Wright was a recent guest. Wright also gave away further detail as to how he personally guided Lowry. 
"A lot of times, the way when he was young that we got him in line was for me to say, 'Yo, if Jason Fraser or Curtis Sumpter, or Allen Ray, if those guys tell me that you're being a pain in the butt, you're done.' The only thing he would respond to was you guys," Wright added about Lowry.
ADVERTISEMENT
Article continues below this ad
"I know he talks about it all the time. I know how much he appreciates and revers what you guys all did for him. It is really cool to see him as such a leader, an intelligent, and respectful guy," he further expressed. 
ADVERTISEMENT
Article continues below this ad
Jay Wright can take the credit for transforming Lowry into a more patient athlete. Wright recognized the talent in the point guard and prepared him for the NBA using his methods. Safe to say that they worked out as Kyle Lowry is now one of the top point guards in the NBA.