Scott Drew Reflects On Years of Work Paying Off for Baylor Bears With 2021 NCAA Championship Win
Published 04/28/2021, 5:30 PM EDT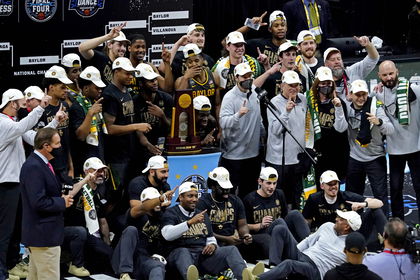 ---
---
The Baylor Bears became NCAA Champions after years of hardship. The team were almost exiled in the early 2000s for a series of scandals that hit them like a storm. Suffice to say, there were incidents that would ruin a college program. But Scott Drew didn't let that happen to Baylor.
ADVERTISEMENT
Article continues below this ad
He took over the disgraced Baylor team and built a winning culture over the years. Now they are consistently one of the best team's in the nation, and Drew spoke about his journey on 'The Rex Chapman Show'.
ADVERTISEMENT
Article continues below this ad
"I'm tired, that was a long journey. Whenever you've been close with the Final Four and two Elite Eights, it made us appreciate much more. When you're close and you knock, but don't get in there. And it takes time to get back there, man you've gotta take advantage of those opportunities because they don't come that often."
He added, "In sports, if you don't win it all. It's close, but it's no cigar. This championship was the first in Baylor school history and the second one in the state since 1966. There's been so many good college teams in the state of Texas, but no champions. This group will be special 15-20-25 years from now. And they're the first to do it at Baylor."
Baylor Bears: Can they build on the title win and create a dynasty?
ADVERTISEMENT
Article continues below this ad
We rarely see teams repeat as champions in the NCAA. Most winning teams see most of their best players leave for the NBA, which is what will happen with Baylor. However, they have a very strong set of incoming talent and under-classmen that will shine now.
The way the Bears play already is very solid, and the team is very fun to watch. Their physicality is unmatched, which is a credit to the staff in the team that has created plans to help players build up strength, a tactic not often seen in the NCAA.
ADVERTISEMENT
Article continues below this ad
That reaped benefits when the Bears were easily out-muscling their way to an NCAA title. Now with stars like Davion Mitchell on their way out, Scott Drew has a tall task ahead of him to keep this team a contender every year as he has done for the last 13 years.