Scottie Pippen Hyped to See His Son Performing at the Highest Level for Vanderbilt Commodores
Published 12/29/2020, 4:05 AM EST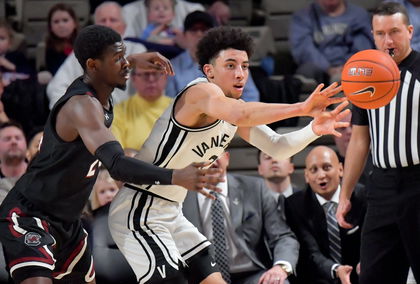 ---
---
Though Scottie Pippen retired years ago, his legacy is still being spoken about in the NBA. Pippen was the backbone of a team that won six NBA championships in eight years and now, his son is gaining massive attention as a sophomore guard with the Vanderbilt Commodores! 
ADVERTISEMENT
Article continues below this ad
The Vanderbilt Commodores are currently 4-2 in the college basketball season and are already favorites to clinch the South Eastern Conference. The team is fueled by several promising talents, and Scotty Pippen Jr. is one of them. 
Scottie Pippen hypes up his son's game on Twitter
ADVERTISEMENT
Article continues below this ad
There are several father-son duos who've played in the league till now. As we look into the future, Scotty Pippen Jr., Bronny James, and Zaire Wade all stand out as the top prospects who can shine bright just like their dads! 
The main focus here is on Scotty Pippen Jr. who is evolving as an extraordinary guard. His explosiveness is mesmerizing and indicates that he is indeed a star in the making. 
Furthermore, his father, 7x All-Star Scottie Pippen, is truly hyped about watching his son make heads turn in the highest level of college basketball! 
Pippen Jr. is absolutely on fire at the moment. He leads Vanderbilt in points, assists, and steals and is a major reason why they stand atop the SEC at the moment. The talented guard is currently averaging 23.3 points and 4.3 assists in his second season with the team. 
Furthermore, Pippen Jr has been performing very well in his last few games and even went on a scoring streak all by himself. He averaged 26 points in his last four games and posted a career-high 30.0 in his team's recent victory against Alcorn State. 
What Vanderbilt guard Scotty Pippen Jr and Bronny James have in common
These two athletes don't seem like they have any connection, do they? One might assume the only thing that links them is that they're both sons of NBA stars. LeBron James' son Bronny is heralded to land into the NBA in a few years' time and make a name for himself. 
ADVERTISEMENT
Article continues below this ad
That is the case with Scotty Pippen Jr. too, but what factor connects him with Bronny James? It is quite unfortunate that they weren't teammates, but they both belong to the same high-school family. 
Scotty Pippen Jr went to Sierra Canyon High-School and graduated before Bronny James joined. The latter is now shining brightly for the highly reputed high-school team and looks to make a mark before entering college. 
ADVERTISEMENT
Article continues below this ad