Shaquille O'Neal Praises Gonzaga Bulldogs' Drew Timme; Compares Son Shareef O'Neal to Him
Published 04/07/2021, 10:00 AM EDT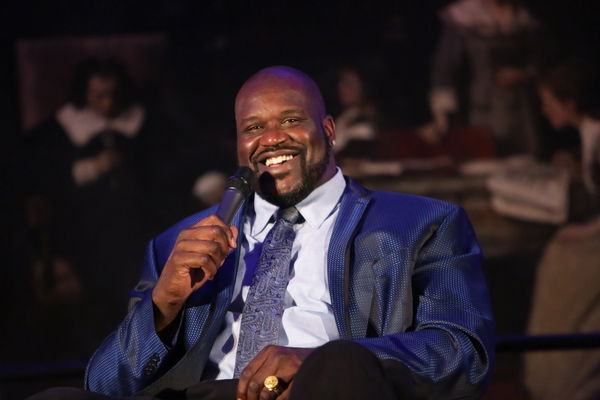 ---
---
The Gonzaga Bulldogs took on the Baylor Bears in the March Madness final on Monday. A lot of NBA players were also hooked onto the game, including Hall of Famer Shaquille O'Neal.
ADVERTISEMENT
Article continues below this ad
During a recent interview, Shaq revealed he was watching the game with his son. He revealed that in the conversation he had with his son, Shareef, Shaq praised Bulldogs' center, Drew Timme. Later he told his son, that he is similar to Timme, but has the ability to do better.
"The big man for Gonzaga is really good," Shaq said. "I'm telling him you're similar to him, but you could step out and shoot a little further than him. This shit don't make you mad?… It drives me crazy. He's a really nice kid."
ADVERTISEMENT
Article continues below this ad
Looking back at Drew Timme's stellar season
Timme averaged 19 points and seven rebounds per game this season. He was super efficient as well, averaging 65% from the field. He shot below 50% just thrice all season. Timme showed that he can be a great scorer too and was the Bulldogs' number one scoring option during the NCAA tournament.
Throughout the season, Timme just had one game where he scored in single digits. He had 16 20-point games, including a 30-point game that came against the ranked Oklahoma Sooners.
Although he averaged only 0.7 steals and 0.7 blocks per game, Timme is still a superb defender. He is also an underrated passer and averaged 2.3 assists per game this season. Overall, he impacted the Bulldogs' success on both ends and was a crucial player in their outstanding 31-1 season.
Is Shaquille O'Neal right about Shareef's ability?
ADVERTISEMENT
Article continues below this ad
Shaq said that Shareef can be similar to Timme. And along with the Bulldogs' big man's skill set, Shareef has the ability to shoot as well. Timme struggles with the three-point shot, averaging 28% on 0.7 shots per game.
But it doesn't seem like a very honest assessment. Shareef barely shot 18% from three in the 2020-21 season, on 1.1 attempts per game. He had some injury problems, but overall he had a poor season with the LSU Tigers. If he wants to be a player like Timme, he needs more playing time to hone his skills, and when he gets the chance, he needs to make the best out of it.
O'Neal is now entering his junior year and still has time to prove himself and become a top player like his father.
ADVERTISEMENT
Article continues below this ad