'Shocked and Scared': Gonzaga HC Mark Few Comments on Official Collapsing During March Madness Game
Published 03/31/2021, 11:00 AM EDT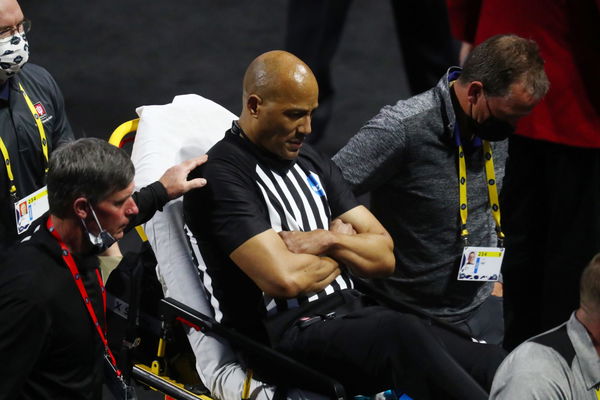 ---
---
The Elite Eight game between the Gonzaga Bulldogs and USC Trojans experienced a scary moment as a referee collapsed during the first half. But thankfully, the March Madness official is now in stable condition and was replaced by a standby referee as the game went on. 
ADVERTISEMENT
Article continues below this ad
The incident happened during the first half of the Elite Eight matchup between Gonzaga and USC at the Lucas Oil Stadium in Indianapolis. Veteran referee Bert Smith suddenly collapsed on the sideline when the Trojans had possession of the ball just five minutes into the first half of the game. 
Smith hit his head on the floor and laid face first as the March Madness game immediately came to a halt. He was standing in front of Gonzaga's bench and medical officials immediately rushed to the spot and began providing treatment after he took the fall. 
ADVERTISEMENT
Article continues below this ad
Smith received on-court treatment for five minutes while both teams moved to their respective benches. Although the cause of his collapse has not been revealed, TBS broadcast rules analyst Gene Steratore mentioned that Smith was feeling "lightheaded" before the incident. 
Bert Smith stood up and positioned himself on a stretcher after receiving on-court treatment. However, Smith did not return to officiate the game even after returning to a stable condition.
Gonzaga's Mark Few sent his prayers to the March Madness referee
It was definitely a worrying moment when Bert Smith collapsed during the game. Both teams on the floor were in shock, and March Madness took a brief pause until Smith was stretchered off the floor. 
As the game resumed, the Gonzaga Bulldogs sealed victory over USC and advanced to the Final Four. However, Bert Smith's health was the most important thing for Mark Few in the post-game press conference after his team won 85-66 over the Trojans. 
"He's a great official, great person. I mean, I was just shocked and scared for him, but I was able to stick my head in there a little bit and see that he was talking and coherent and tried to say a quick prayer for him and just wished him the best," Bulldogs' head coach Mark Few expressed. 
ADVERTISEMENT
Article continues below this ad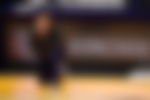 Everyone at the Lucas Oil stadium stood in solidarity with Bert Smith after he collapsed on the floor. They all waited for him to get back to his feet. It was only after he did so that the stadium sighed a breath of relief. 
At the end of the day, Gonzaga wasn't disrupted from its title run and booked a place in the Final Four of the 2021 March Madness! 
ADVERTISEMENT
Article continues below this ad
Read Also: LeBron James and Damian Lillard React to Controversial No-Call In Women's March Madness
Trending Stories