WATCH: 'Cowboy For Life'- Cade Cunningham Announces Entry Into 2021 NBA Draft And Bids Farewell To Oklahoma State
Published 04/01/2021, 11:52 AM EDT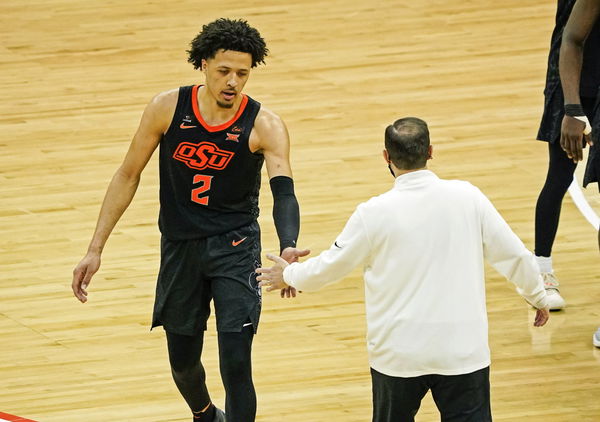 ---
---
Cade Cunningham is one of the brightest prospects in basketball today. While he had a great freshman campaign for the Oklahoma State Cowboys, he is ending his tenure with the team after one season. Cunningham led the Cowboys to March Madness before they went out in the Round of 32 to the Oregon State Beavers.
ADVERTISEMENT
Article continues below this ad
While there were rumors that Cunningham may choose to return for one more season, most people knew it was unlikely that Cunningham returns to college. He is the projected #1 draft pick in next year's draft. Cunningham made the move to the Draft official and bid adieu to the OSU fanbase and team.
ADVERTISEMENT
Article continues below this ad
"I didn't know how I was going to approach today. Didn't realize it was going to be on April Fools' Day. This year was a great year for me. I believe I have grown tremendously throughout this year. As a person and as a basketball player. I think more than anything, the gratitude I have for the people behind the scenes. They don't get the credit that they should. Obviously, coach Mike and I have had this connection since the beginning. But he put the right people throughout the program to help sustain the enrgey he has brought. Just a ton of appreciation from and I will be a Cowboy for life.
ADVERTISEMENT
Article continues below this ad
Cade Cunningham: How will he fare in the draft?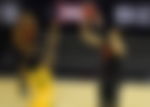 Cade Cunningham is going to be the number one overall pick in the 2021 NBA Draft if all things go as expected. While close contender for the top spot Jalen Suggs still has time to improve his draft stock by winning a national title, it seems a lock that it will be Cade.
ADVERTISEMENT
Article continues below this ad
But why would one not select him? He is a combo guard with the size and skill-set for the modern game. He has no evident flaws in his game and has all the signs of a player who will develop into an elite talent at the NBA level.
While there is a chance he doesn't go number one, it doesn't seem like he will fall below three. The only exceptions are Suggs crossing him in the draft board or a team needing a center getting the first pick. Best of luck on the journey to the NBA.