WATCH: NCAA Basketball Fans Perplexed After Odd Bit of Camera Work In Illinois Fighting Illini vs Rutgers Scarlet Knights
Published 01/17/2021, 9:45 AM EST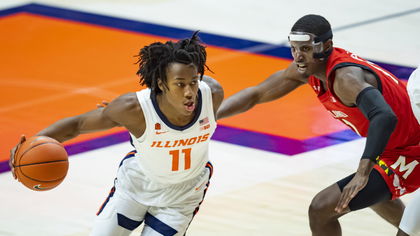 ---
---
NCAA Basketball has had an odd season so far. With COVID cases halting programs to heavyweights like Kentucky Wildcats falling to one of the worst starts in team history, there have been a lot of things sticking out about this season. However, the competition on the court is fierce as ever,
ADVERTISEMENT
Article continues below this ad
In a high-stakes Big 10 Conference game between the Illinois Fighting Illini and the Rutgers Scarlet Knights, a very weird sight was caught on the camera.
ADVERTISEMENT
Article continues below this ad
Yes, the video is not lying to you. It looks like the Rutgers player is sliding down side-court while sitting absolutely still. It was a very weird sight that people without context would be absolutely perplexed by. Even though people may wish this was a supernatural feat, it sadly isn't that.
This is a result of tracking cameras keeping pace with Adam Miller on the court. It thus created an illusion that the background was moving, with the Rutgers player moving sideways as well. The camera was moving in a way to correctly frame Miller in the center, but it ended up doing something else altogether.
NCAA Basketball: A season of oddities
ADVERTISEMENT
Article continues below this ad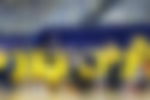 While this camera movement was relatively innocuous, it is another odd moment that the NCAA can add to their 2020-21 season. We have already covered what happened with Kentucky, but we see left-field upsets almost every other game nowadays. The Texas Tech Raiders beat one of the best teams in the country in the Texas Longhorns recently.
The unbeaten Michigan Wolverines fell to a Minnesota Golden Gophers team they demolished by 20-points. Minnesota was also coming off back-to-back losses against the high-flying Wolverines.
ADVERTISEMENT
Article continues below this ad
The only things to happen as expected is the domination of the field by the Baylor Bears and the Gonzaga Bulldogs. However, we wouldn't want to tempt fate and have something odd happen to them as well. In a season where everyone is battling a deadly virus, the fans can also battle a few of these situations that this season will provide.