WATCH: When Tim Duncan Ended His College Career With a Monster Game
Published 05/15/2021, 11:02 AM EDT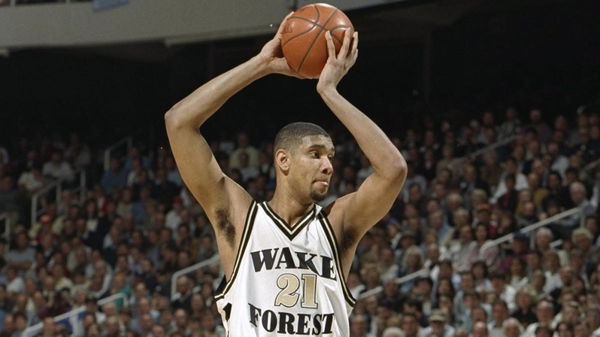 ---
---
San Antonio Spurs legend Tim Duncan will officially become a Hall of Famer today. Although it is a year late, he finally gets his honor for his contribution to the sport. While his journey with the Spurs is a celebrated one, his time with the Wake Forest Demon Deacons was memorable too.
ADVERTISEMENT
Article continues below this ad
Very few players in the NBA have played all four seasons in college, and Duncan is part of this rare club. Many four-year players are often drafted later, but Duncan's excellence saw him go number one in 1997. This came after a brilliant career with Wake Forest. Although he never won a title in his four seasons, he left with a bang.
In his final game for the Demon Deacons, Duncan had a memorable game against the Stanford Cardinal. It was the second round of the NCAA tournament and the stakes were high. Duncan knew he had to give his 100% because there was no other chance to lay his hands on the NCAA tournament title.
ADVERTISEMENT
Article continues below this ad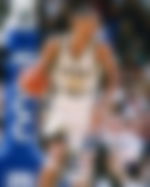 Tim Duncan posted monster numbers but failed to get help
The Demon Deacons entered the game as the favorites. They were the #3 seed whereas the Cardinal were only the #6 seed. But right from the first half, the Deacons fell behind. They only scored 19 points in the first half, with Duncan scoring 14 out of it.
Duncan ended with 18 points and an insane 20 rebounds along with three blocked shots. He went 5-11 from the field and was killing the Cardinal defenders in the paint, going 8-11 from the free throw line. Perhaps he should have been more aggressive because that wasn't enough for Wake Forest to win. His teammates failed to show up and struggled all night.
ADVERTISEMENT
Article continues below this ad
Both teams scored 47 points each in the second half, but the six-point difference in the first half separated them at the final buzzer. After a glorious accolade filled four-year career, Duncan bid adieu to the Demon Deacons on a sad note.
He left as the reigning National Player of the Year, after a stellar season averaging 20.8 points and 14.7 rebounds per game. He also shot an incredible 60% from the field and averaged 3.3 blocks per game. Duncan is ranked fourth on the Deacons' all-time points list, second in rebounds, and first in blocks. Tonight, he will rightly claim his Hall of Fame honor after over two decades of excellence as a player.
ADVERTISEMENT
Article continues below this ad