What Went Wrong for the Wisconsin Badgers Against the Marquette Golden Eagles?
Published 12/05/2020, 6:05 AM EST
---
---
The Wisconsin Badgers were one of the top-ranked teams in the country. Even though it was a big rivalry game against the formidable Marquette Golden Eagles, many had picked Wisconsin to win this game. However, NCAA basketball usually breaks these norms. We have already seen a host of upsets this season, and the Golden Eagles brought about another one.
ADVERTISEMENT
Article continues below this ad
The Badgers lost to a heartbreaking buzzer-beater tap-in by Justin Lewis to seal the victory (67-65). The Golden Eagles had a 35-30 lead heading into the half, but saw the Badgers crawl back into it in a closely contested game. However, the lead held up after a herculean put-back by freshman Lewis saved the game for the Golden Eagles.
ADVERTISEMENT
Article continues below this ad
What went wrong for the higher-seeded Badgers? Why couldn't they match their defensive effort on the offensive end and give up this loss? This loss also happened to be their first of the season.
Wisconsin Badgers: Foul trouble writes the story?
The circumstances around the loss weren't anything wrong that the Badgers were planning to do. However, the main culprit seems to be the foul trouble that the team was in early in the game. In a gritty defensive showing, the Badgers played a lot of the first-half with their starters with two fouls. Micah Potter, Brad Davison, and Nate Reuvers all suffered. Tyler Wahl and Ben Carlson were also sitting on two fouls.
ADVERTISEMENT
Article continues below this ad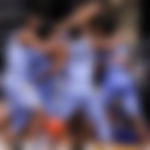 Davison would end up fouling out late in the game. Funnily, the reason Marquette was in a position to win the game was because they were in the bonus and shooting free throws. They got to the line because D'Mitrik Trice was called for foul with under a second remaining on the clock.
The play suffered throughout the game, as starters were relegated to the bench. Their offense ended up being very sloppy out of the half-court, as the team had a season-high of 10 turnovers against Marquette. Credit goes to the defensive effort of Marquette, but the Badgers need to do better.
ADVERTISEMENT
Article continues below this ad
This likely means that the Badgers will fall out of the top 5 in the rankings, possibly to as low as 9.