What Does Jalen Suggs Injury Scare Mean For the Gonzaga Bulldogs' Season?
Published 12/03/2020, 3:30 PM EST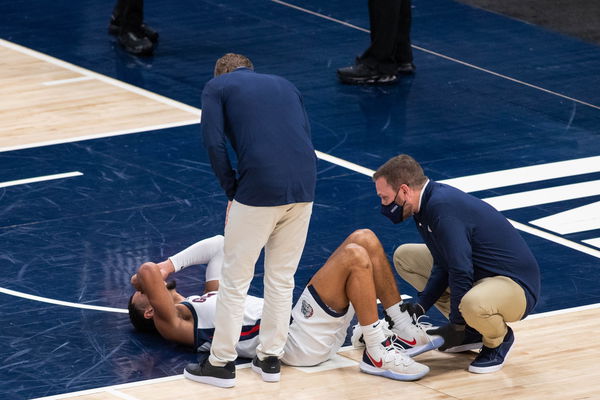 ---
---
Jalen Suggs had to walk off the court in the Gonzaga Bulldogs game against the West Virginia Mountaineers. The freshman hurt his ankle in the first half of the game. For a minute, everyone was convinced it would be a serious injury. However, Suggs managed to walk back onto the court and finish the game. The Bulldogs won the game 87-82, but Suggs could contribute only 4 points to it.
ADVERTISEMENT
Article continues below this ad
Even if the numbers were bad, the heart is what everyone will focus on. The fact that Suggs walked back onto the court while injured early in the NCAA season was bold. However, it just shows that this young player has the mentality required to succeed in this sport. But nonetheless, he is hurt, and will have to recover from the injury.
ADVERTISEMENT
Article continues below this ad
Even though he finished the game, Suggs was noticeably sluggish and limping on the court. What does this possible injury mean for the rest of the Gonzaga season? Will Suggs have to spend a lot of time recovering from this injury? Either way, there is going to be some immediate fallout.
Jalen Suggs: Missing the biggest clash of the season?
ADVERTISEMENT
Article continues below this ad
Suggs played on his bad ankle against the best judgment of Zags coach Mark Few. However, he won't play the 18-year-old in games if he is at high risk for re-injuring the ankle. The Zags' trainers had cleared Suggs to return to the game against the Mountaineers, but it is obvious that he finished that game on a surge of adrenaline.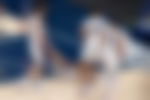 The Zags' face number two ranked Baylor in two days, which is the biggest clash of the early NCAA season. Both the teams have high aspirations this year, and it would have been the perfect platform for Suggs to show what he can do. However, his ankle may limit his contribution at a high level yet again.
ADVERTISEMENT
Article continues below this ad
Hopefully, this ankle sprain wears off in a week or so. Suggs is a projected lottery-pick for the 2021 NBA Draft, so he is definitely playing for more than just this NCAA season.