Arizona Wildcats Head Coach Takes a Sarcastic Jibe at NCAA's Officiating
Published 12/06/2020, 4:30 AM CST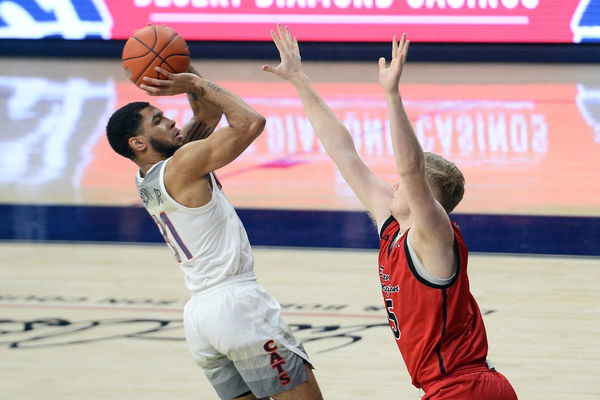 ---
---
The Arizona Wildcats have got on to an unbeaten start, but the team is not content. Wildcats' head coach Sean Miller took a sarcastic jibe at the NCAA's on-court officiating and mentioned the primary tactic to be followed in the upcoming games! 
ADVERTISEMENT
Article continues below this ad
The Wildcats recently faced Eastern Washington Eagles and took home a three-point win. It wasn't straight-forward, and Arizona had to cut out a deficit in the second half to emerge victorious. 
However, the on-court officiating did not sit well with Wildcats head coach Sean Miller, who ensured he expressed his opinion during the post-game presser. Washington committed 20 fouls during the game compared to Arizona's 19. 
ADVERTISEMENT
Article continues below this ad
Miller felt the referees gave away fouls against his team quite cheaply, but conversely favored the Eagles' rugged gameplay. The 52YO then had some fun with the media on how his team should aim at winning games henceforth. 
"We have to cut and join the part and flop, run full speed, take fouls with our chest and slide in underneath," Miller expressed.
"Those were the big plays. Those were the turnovers on the offense, fouls on the other team's good player, and a lot of times it erases a basket," he further added. 
Sean Miller really wants the Arizona Wildcats to flop more on the court!
Flopping is considered as a disgraceful act on the court. Fans don't really entertain it, let alone the players. However, Miller feels there are teams who take advantage of flopping to gain offensive fouls. 
"We were rim running without the ball in transition, had our hands up, trying to get position, and if the defenders just falls down, there is a chance that it is an offensive foul," Miller mentioned. 
"It is a hard game to watch, and I think it is the only game that's really called like that. But that's the rules, that's how it is being called," he then stated. 
Miller then mentioned that he's ready to make a change in the way his Arizona Wildcats team trains. Obviously, there is an advantage in playing for the whistle and he wants to make efficient use of it. 
ADVERTISEMENT
Article continues below this ad
"Tomorrow we're gonna work hard on, Fall down, fall down, run into screens, just boom. Throw your head back and draw charges."
"But running into screens is beneficial now, the way the game is being called, and we certainly have to adjust to that," said Miller.  
The Arizona Wildcats are off to a perfect start but are yet to face off against their conference members. Things looked stacked in the Pac-12 conference, but how far can the Wildcats go this season?
ADVERTISEMENT
Article continues below this ad