'Life-Threatening': Iowa Hawkeyes Center Luka Garza Recollects the Darkest Moment in his Career
Published 12/19/2020, 4:30 AM EST
---
---
Iowa Hawkeyes big man Luka Garza is a man on a mission. He's currently putting up massive numbers as a senior, but Garza had to overcome a career-threatening surgery in his sophomore year, which really offered him a new perspective on life. 
ADVERTISEMENT
Article continues below this ad
Garza is currently thriving with the Hawkeyes and is one of the top talents to watch out for in the 2021 NBA draft. However, things weren't so smooth for the Virginia native in his second year with Iowa.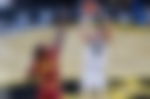 Garza had noticed a tumor developing in his stomach, which at first seemed like something minor. The Iowa center gave proper attention to the abnormal growth only after it began giving him some trouble.
ADVERTISEMENT
Article continues below this ad
"It was the most craziest thing I've ever experienced… I had a bump on the side and it never really hurt me. People told me it was my bone structure or something else, and I never really understood what it was. It got to a point where it was starting to hurt in my general area," Garza told Robbie Hummel and Jeff Goodman on The Field of 68 podcast. 
The critical surgery gave Iowa Hawkeyes center Luka Garza a whole new perspective 
Garza required surgery to remove the benign cyst from his abdomen. It kept him out of training for quite a while, but Garza was fit to go before the start of his sophomore year with the Iowa Hawkeyes. 
"When I thought I had to get surgery, it was crazy," Garza explained. "It was so big, and it was connected to my spleen. They needed to separate it without bursting my spleen… Obviously, I could live without a spleen, but it would've been a more dangerous surgery and more life-threatening."
ADVERTISEMENT
Article continues below this ad
The surgery gave Garza the chills, but he understood and took the right way out. The only option was to remove the cyst, and the Hawkeyes center agreed to undergo the procedure after thinking about a few consequences. "I knew I needed to do surgery if I got hit on the court in that area and it burst, that would also be something that was life-threatening," mentioned Garza. 
ADVERTISEMENT
Article continues below this ad
Luka Garza played with the cyst on his abdomen for quite some time and now feels "crazy" about the risk that he took. However, the surgery and rehab changed "life's perspective" for the youngster who is destined to make it big in the NBA.