Former UNC Tar Heels Player Reveals When Michael Jordan Embarrassed Jerry Stackhouse in Practice
Published 02/10/2021, 2:00 PM CST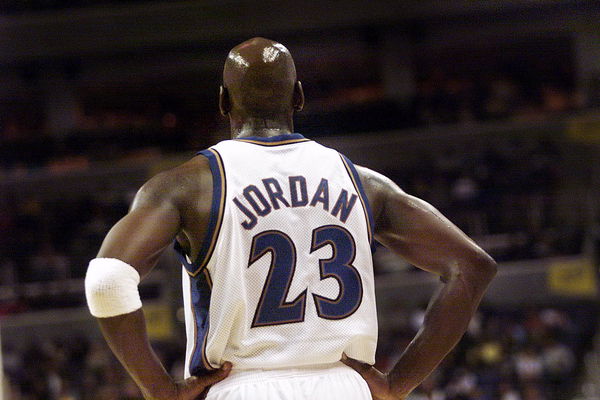 ---
---
When Michael Jordan was with the North Carolina Tar Heels, he would destroy the opposition. But there were a few occasions where other Tar Heels would get destroyed by him too. After leaving for the NBA, sometimes during the off-season, he would drop by and play at the Dean E. Smith Center.
ADVERTISEMENT
Article continues below this ad
Former Tar Heel Ademola Okulaja recently revealed one of Jordan's best duels during this off-season practice. He went head-to-head against two-time All-Star Jerry Stackhouse and embarrassed him.
"It was summer time, and Stack came," Okulaja said. "We played full court and Stack was just destroying. Then Michael came in and he warned up and said I got next."
ADVERTISEMENT
Article continues below this ad
"We kept playing and Michael went right at stack. I don't think he scored for the rest of the night. That's the first time you see real trash-talking, face-to-face. Before Michael walked in, he was Michael. He did everything, and we were like wow that's a superstar. Until Mr. Superstar walked in. The first game he had 50, when Michael walked in, I don't know if he had a basket."
Michael Jordan and his infamous team-up Jerry Stackhouse
That first encounter was in 1995 when Stackhouse had just declared for the Draft and left UNC. Stackhouse played two seasons and won multiple accolades before he left. Seven years later, Stackhouse was playing for the Pistons but got traded to the Wizards in 2002, when a 39-year-old Michael Jordan was still in town.
This Tar Heel partnership produced 41.5 points per game, 21.5 points per game from Stackhouse, and 20 points per game from Jordan. But the Wizards only won 37 games and missed the playoffs for the sixth year in a row.
ADVERTISEMENT
Article continues below this ad
Last year, Stackhouse revealed he wished he never played with Jordan at Washington. He spoke about how the coach did whatever Jordan wanted, and when Jordan was unhappy about the offense running through him, he changed it up. He chose to make a 39-year-old Jordan the #1 option ahead of the 28-year-old Stackhouse.
That made the experience sour for him, and he said that he lost reverence that he had for Jordan. The six-time champion retired after that season, while Stackhouse played another season before leaving.
ADVERTISEMENT
Article continues below this ad