When Stephen Curry Showed Glimpses of the Superstar He'd Become in 2008 NCAA Tournament Run
Published 03/03/2021, 4:00 PM EST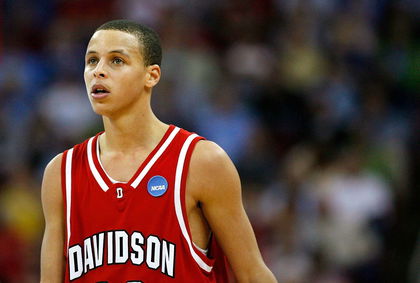 ---
---
Every NBA fan knows about the brilliance of Stephen Curry. With 2 MVPs and 3 rings already in the bag, Curry has had one of the best careers an NBA player could have. But a lot of fans are unaware of his exploits in college, especially his 2008 NCAA tournament run.
ADVERTISEMENT
Article continues below this ad
After being a 3-star prospect, Curry didn't have too many college offers. He chose the Davidson Wildcats, and he immediately became a star there.
He had an impressive rookie season, averaging 21 points per game while shooting 40% from three. But he sealed his status as a Davidson hero in his sophomore year.
ADVERTISEMENT
Article continues below this ad
The Wildcats won the Conference regular-season title undefeated and followed it by winning the Conference tournament as well. That earned them the 10th seed in the Midwest Region, and a daunting set of fixtures awaited them.
Stephen Curry leads the Wildcats to three upsets in a row
The first boulder in their path was the 7th-seeded Gonzaga Bulldogs. They showed why they were favorites and started the game with a commanding 11-point lead at halftime.
While his teammates were struggling, Curry went berserk and finished the game with 40 points, while shooting 14-22 from the field. The Wildcats won by 6 points and advanced to the 2nd round.
Facing the Georgetown Hoyas in the next round, the Wildcats pulled through with a 4-point win. Curry poured in with 30 points, and although he was inefficient going 8-21 from the field, he did enough to lead them to a win.
The opposition only got tougher as they were up against the Wisconsin Badgers next. Over the years, the only consistent factor about the Badgers is their solid defense.
But Curry tore through that defense and gave them the work. He ended with 33 points while shooting 11-22 from the field. The Wildcats trashed the Badgers 73-56 to march into the Elite Eight.
Watching a young Curry tearing it up was his future rival, LeBron James. He was left impressed watching his fellow Cleveland native showing off his talent.
Fairytale run ends against the Kansas Jayhawks
ADVERTISEMENT
Article continues below this ad
The Wildcats were now up against their toughest opponent so far as they faced the #1 seed Kansas Jayhawks. Over the course of the tournament, Bill Self's boys had seen enough of Curry and they knew he had to be stopped. They double-teamed him on every possession and gave him no breathing room.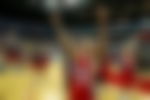 Curry had to rely on his teammates to make the clutch shots and unfortunately, it didn't work out. The Wildcats ended up losing by just two points, and with that ended the fairytale run of an upcoming superstar.
ADVERTISEMENT
Article continues below this ad
MORE- WATCH: LeBron James Had Predicted Greatness for Stephen Curry Even Before He Landed in NBA