#55 In The Rafters: Five Legendary Moments From Luka Garza's Iowa Hawkeyes Career
Published 03/08/2021, 3:10 PM EST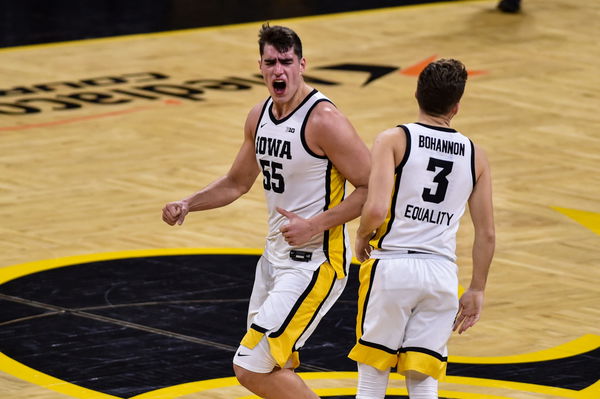 ---
---
Runner-up last season, Iowa Hawkeyes' Luka Garza looks likely to win the Wooden Award this season. He has set the NCAA on fire this season with his performances and has been a man among boys.
ADVERTISEMENT
Article continues below this ad
The forward is about to play his last few games for the Hawkeyes before he leaves for the big leagues. In his four seasons so far, Garza has wowed the fans on many occasions. Let's look at his top five performances from these four years.
First 30 point game for Iowa Hawkeyes' Garza
ADVERTISEMENT
Article continues below this ad
It took Garza three seasons to get his first 30 point game. While Oral Roberts aren't the fiercest opponents, it is still a landmark game for Garza. It was the third game of the season, but it marked the beginning of a superb season. He finished with 30 points, shooting 12-19 including 2-4 from three, slowly establishing himself as an elite stretch big.
Career-best game against top-quality opposition
Less than a month after his first 30 point game, Garza dropped his first 40 point game. Unlike the last time, this came against the Michigan Wolverines, one of the best teams in the country. He had 44 points while shooting 17-32 from the field. Although the Hawkeyes ended up losing, Garza made it known that he is one of the best bigs in the league.
Decimating rivals with a near-perfect performance
Earlier this season, the Hawkeyes faced their rivals, the Iowa State Cyclones. With stakes high in the game, Garza ensured his performance was going to be equally exciting. He shot a ridiculous 13-14 from the field, including 6-7 from three to finish with 34 points. If that wasn't absurd enough, he managed that in just 17 minutes.
Breaking his cold-streak with a statement performance
The 2020-21 season is the best season Garza has had, but there were a few difficult times too. He went on a four-game cold streak where he was averaging just 16 points and 39% from the field. But he turned it around brilliantly, scoring 30 points, shooting 11-19 from the field and 4-6 from three against the Wisconsin Badgers. They are one of the best defensive teams and to best them on the road is massive.
Jersey retired by the Iowa Hawkeyes
The ultimate respect a team can show for their player is retiring their jersey. As his incredible four-year career winds down soon, the Hawkeyes have already announced that they will retire Garza's #55 jersey at the end of the season. He is arguably the best player the Hawkeyes have ever had, and this a perfect seal for his legacy.
ADVERTISEMENT
Article continues below this ad
With a few games left for his Hawkeyes career, Garza may yet add a few more legendary moments to his career.
ADVERTISEMENT
Article continues below this ad