'Can't Operate in D**n Hindsight': Roy Williams Has Hilarious Reponse Regarding North Carolina Tar Heels' Schedule
Published 02/25/2021, 12:00 PM EST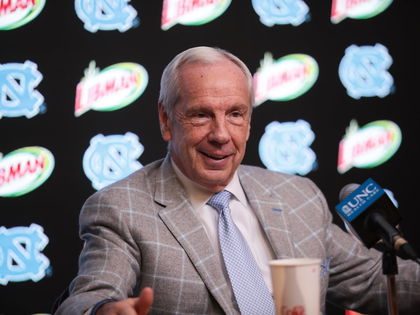 ---
---
North Carolina Tar Heels fell to the Marquette Golden Eagles last night. It was an unexpected loss, and it was a game many fans believe shouldn't have been played at all. The Tar Heels have been desperate to fill games in their schedule after COVID-19 forced a lot of postponements. They even resorted to asking on Twitter if any team would be interested in playing them.
ADVERTISEMENT
Article continues below this ad
We're looking for a home game this week (February 16-18).

Please contact us if interested.

— Carolina Basketball (@UNC_Basketball) February 15, 2021
ADVERTISEMENT
Article continues below this ad
Is this why they scheduled a non-conference game with Marquette in the middle of the week? Fans felt it made no sense since it was a game that can't help advance their resume, but could damage it. And it did when the Golden Eagles walked away with a 70-83 win. This prompted a reporter to ask coach Roy Williams whether it made sense to schedule this game, and he received a hilarious response.
Williams replied, "Well, if I'd known we were gonna lose, God almighty, I wouldn't have scheduled them. Come on. We can't operate in d**n hindsight. God almighty. If you told me we were gonna lose, hell yeah, we wouldn't have played the game. If you told me we were gonna beat the Lakers, I'd have scheduled them.
"Carolina fans, they're not that dumb. If they are, I've got no answers for them."
Tough loss for the North Carolina Tar Heels
The Tar Heels had lost just one home game all season before the Golden Eagles arrived. They were just building momentum with a two-game win streak, and now they're back to square one again.
They started the game poorly. Within the first eight minutes, they allowed the Golden Eagles to build a ten-point lead. They kept coming close but the Golden Eagles never gave their up lead. The Tar Heels ended the first half with just 29 points and shot terribly, going 11-30 from the field.
ADVERTISEMENT
Article continues below this ad
There was a lack of intent from them and despite them working hard in the second half a defeat was inevitable. Except for Garrison Brooks, the Tar Heels' starters were disappointing. They combined for just 15 points and were equally poor on defense as well.
This defeat will be a setback for their at-large bid for the NCAA tournament, and they need much-improved performances in their final three games of the season.
ADVERTISEMENT
Article continues below this ad