Florida Gators Announce Keyontae Johnson is in Critical Yet Stable Condition
Published 12/14/2020, 6:27 AM EST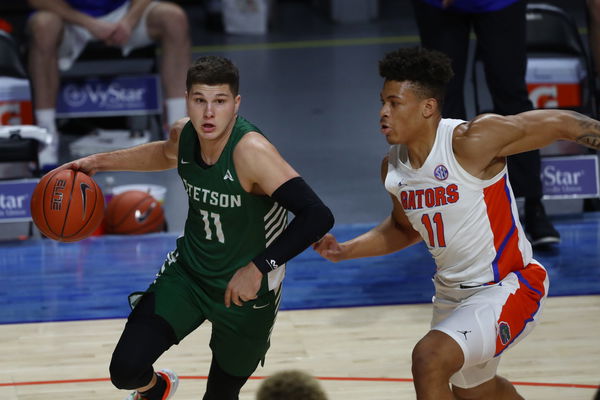 ---
---
NCAA basketball had come off to a flying start this season, but Saturday saw one of its biggest scares. Florida Gators junior Keyontae Johnson collapsed unexpectedly during a game against the Florida State Seminoles.
ADVERTISEMENT
Article continues below this ad
He had just scored for the team with a dunk in transition and collapsed while returning for a timeout. Shocked, his teammates immediately called for help, before Johnson was stretchered off. The players tried to continue the game later. But they were too shaken and eventually lost 71-83 after holding an eight point lead when the incident happened.
In the latest update about his situation, Johnson is now in a critical yet stable condition. The Gators announced that coach Mike White and associate AD Dave Werner stayed back at the Tallahassee Memorial hospital where Johnson was receiving medical attention.
ADVERTISEMENT
Article continues below this ad
Keyontae Johnson: A rising star for the Florida Gators
Last season as a sophomore, Johnson put up 14 points and 7.1 rebounds per game while shooting 38% from three. He made it to the All-SEC team, as he led the Gators to a 19-12 finish.
This season, he looked much sharper, averaging 16 points and 4.5 rebounds per game while shooting 42% from three. The Gators were crusting 3-0 in the new season before that heart-wrenching loss to rivals Seminoles.
Coach White and teammate Tre Mann took to Twitter to write their thoughts on this difficult situation.
I know you're fighting bro ❤️ God got you 🤞🏽

— Tre Mann (@tre2mann3) December 12, 2020
ADVERTISEMENT
Article continues below this ad
Johnson and a lot of his teammates had previously tested positive for COVID-19. It has not yet been revealed what led to Johnson's collapse, but there are speculations about it being a cause of myocarditis, which has affected other athletes who have suffered from coronavirus. It is an infection that can lead to a sudden cardiac arrest, and in the worst cases, can lead to death.
Philadelphia 76ers coach Doc Rivers also addressed this situation, but issued a general statement about playing in such times. "Listen, we are playing in unchartered waters, we all know that," Rivers said.
"I am smart enough to know what I don't know. I think just everybody, not just athletes, we all have to be safe. We've just got to be as safe as we can."
ADVERTISEMENT
Article continues below this ad