Former Kentucky Wildcats Player Explains Why Brandon Boston Jr is Struggling Right Now
Published 01/21/2021, 7:29 AM EST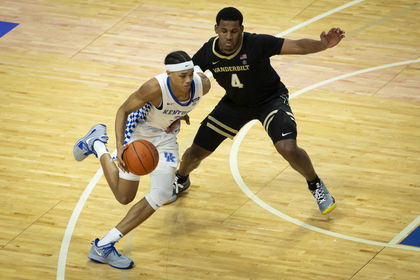 ---
---
Five-star prospect Brandon Boston Jr rejected a ton of offers when he chose the Kentucky Wildcats. But so far, it has been far from what he would have imagined. Not only are the Wildcats struggling, but he has also been unable to get going after an exciting debut.
ADVERTISEMENT
Article continues below this ad
Former Wildcats player Wayne Turner had a discussion with Jeff Goodman about why Boston is struggling right now. Turner said there are two reasons behind his woeful form, and the most important one is regarding Boston's focus.
He said, "Brandon Boston is someone who hasn't shown his best performance. I feel like he's putting a lot of pressure on himself because there's next level talks. A lot of times when there's talks about the next level, you forget about what you're doing now and you worry about the future. You set yourself up for failure when you do that… All the things he needs to do to help his team win is what he should be focusing on, not the NBA."
ADVERTISEMENT
Article continues below this ad
Can Kentucky Wildcats' Brandon Boston help the team bounce back?
The second reason behind Boston's struggles, according to Turner, could be attributed to his mental preparation before entering college basketball.
"Coming to a big college basketball programme like Kentucky, you definitely have to be mentally prepared," Turner said. "Because there's a lot of adversity that happens throughout the season, within the team, outside the team… When you're the star coming out of high school… it's hard to accept there are other stars on the team with you. Because you lose a little bit of the limelight… Immaturity takes a toll on younger guys, especially when adversity hits."
ADVERTISEMENT
Article continues below this ad
At Kentucky, Boston has other five-star and four-star prospects too, so sharing the ball with them, learning to play as a team, and ultimately playing for the team, is what Turner feels Boston needs to do currently.
After a long run of bad games, Boston had a stellar performance in his last game against Georgia, scoring 18 points, while shooting 9-17 from the field. He is still struggling with the three-ball, shooting just 16%. If he can stay focused and play his best, he can be a threat to any opposition and can help the struggling Wildcats to gain some momentum.
ADVERTISEMENT
Article continues below this ad