Former NBA Star Explains Why LeBron James' Son Bronny James Is Destined for Greatness
Published 02/08/2021, 12:00 PM EST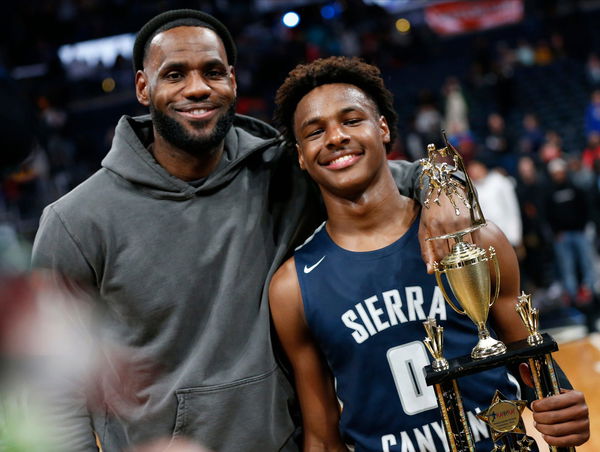 ---
---
Los Angeles Lakers star, LeBron James, signed an extension in the off-season, keeping him in LA for two more seasons. Many believe that he signed it strategically.
ADVERTISEMENT
Article continues below this ad
When he turns a free agent in 2023, his son, Bronny James, will be fresh out of high school. If rules are changed to allow high schoolers to directly enter the league, they could potentially team up.
But how good is Bronny? Is he any good at the moment? Former NBA star Gilbert Arenas has the answer. During a recent episode of his 'No Chill' podcast, he spoke about where Bronny stands currently, and where he could be in a few years.
ADVERTISEMENT
Article continues below this ad
"You can't judge him by his numbers because you're not looking at everything that's in front of this man," Arenas said. "Look who he is practicing and competing against every single day. That's what's making him better. It ain't the game, it's this practice. You've got juggernaut players who are ranked top 5 in the nation, and that's who he gets to see every single day."
Will Bronny follow in the footsteps of his father, LeBron James?
One of LeBron's best attributes is his elite mentality. According to Arenas, Bronny is already getting there on that front.
Choosing to go to Sierra Canyon, to train with the best, to learn behind the best, and to fight for a place among the best players in the country, shows that Bronny is ready to earn his stripes and not just make a living out of his father's name.
ADVERTISEMENT
Article continues below this ad
Another quality that he has taken from his father is his athleticism. While 36-year-old LeBron may not be as athletic as he was before, he is still one of the best in the league.
In the limited game time he has got so far, Bronny has also shown off his dunking and especially his alley-oops.
ADVERTISEMENT
Article continues below this ad
But unlike LeBron, Bronny's jumper looks more natural. He has all of these promising qualities and also the resources to turn out to be one of the best in the country. So if it goes this way, in a year or two, Arenas' prediction is bound to come true.